Shanghai Co-operation Organization to admit India, Pakistan as full members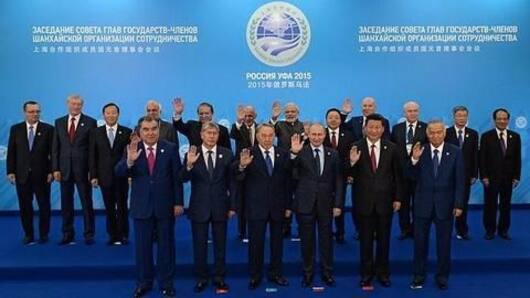 All eyes are on India and Pakistan as they are set to be admitted as members of the Shanghai Co-operation Organization, at the annual summit to be held in Astana, Kazakhstan, on 8-9 June.
The forum has been purported to extend India's reach into Central Asia and also help resolve India-Pakistan disputes.
Let's find out what SCO membership means for India!
In context
SCO membership: What does it mean for India?
SCO to welcome India and Pakistan
Although India and Pakistan have been observers within the SCO since the initial years, the SCO approved of their membership in 2015. The Memorandum of Obligations, a confirmation of full membership is expected to be finalized at Astana.
About
Shanghai Co-operation Organization
SCO was founded in 2001 after Shanghai Five, formed in 1996 including China, Russia and the Central Asian nations of Kazakhstan, Kyrgyzstan Tajikistan, admitted Uzbekistan as a member.
It focuses on security issues plaguing Central Asia, including terrorism and separatism.
SCO members account for 60% of Eurasian landmass and would account for about half of the world's population after India and Pakistan are admitted.
Love World news?
Stay updated with the latest happenings.
Notify Me
Context
What context is the Astana summit happening in?
The Astana summit is firstly happening against the backdrop of rising tensions between India and Pakistan, with state-sponsored terrorism being the central bone of contention.
Numerous instances over the past few days have also resulted in friction in Sino-Indian ties.
The summit further is happening after China pitched for its One-Belt-One-Road initiative, a set of investment corridors connecting Asia and Europe.
On the sidelines
Hinting at the possibility that PM Modi might meet with Chinese President Xi Jinping on the sidelines of the summit, MEA spokesperson Gopal Baglay stated that schedules are being worked out. MEA had earlier clarified that Modi may not meet his Pakistani counterpart, Nawaz Sharif.
Analysis
What does SCO membership mean for India?
A highly ambitious prospect, India and Pakistan can utilize the SCO forum to resolve their disputes, without heavy international intervention.
SCO membership would further enable India to expand its footprint into Central Asia and partake in Afghanistan's peace negotiations, becoming a relevant stakeholder.
At the same time, India has to be wary of China and Pakistan continuing to hinder India's prospects in the organization.
09 Jun 2017
Modi runs into Nawaz Sharif at SCO, enquires about health
PM Modi exchanged greetings with Pakistani PM Nawaz Sharif when the two happened to run into each other at the Leaders' Lounge in Astana-Opera before the Shanghai Cooperation Organization concert.
This was the first time they met after Sharif's surgery, Modi reportedly enquired about his health and family.
Uncertainty remains whether the two leaders will formally meet at the SCO amid strained bilateral relations.