Several trapped as massive fire engulfs London tower block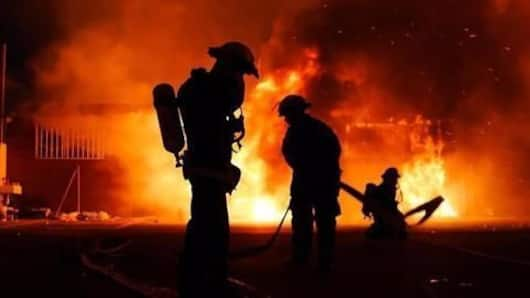 Several people are believed trapped in a tower block at Latimer Road, West London, as huge flames engulfed the building.
The fire at Grenfell Tower in Lancaster West Estate started in the night, at about 1:16am local time.
BBC reported that at one point of time, the whole building was alight.
About 200 firefighters and 40 fire engines were trying to control the blaze.
In context
London: Massive fire breaks out in 24-storey apartment
Details
Tower could collapse any second
Officials have been pushing back public for fear that the building might collapse. At 4am, evacuations were ongoing.
Those rescued were being treated for "a range of injuries".
Witnesses reported flashes of light, presumably from mobiles or torches, were seen at the top of the block.
A BBC correspondent reported "debris falling from the building", explosions, and "the sound of glass breaking".
Rescue
Trapped people jump out of windows
Samira Lamrani, a witness, said, "…A woman (on the ninth or 10th floor) was gesturing that she was about to throw her baby and if somebody could catch her baby." A gentleman managed to catch the child.
Others were seen using bedsheets to try and escape the tower block. One was seen waving a white cloth.
Love World news?
Stay updated with the latest happenings.
Notify Me
Chaos
Chaos in London
The Underground was affected; the Hammersmith and City and Circle lines were partially shut down due to the fire. The A40, a major road, was also closed.
George Clarke, presenter at Channel 4 TV, was standing 100m away from the 24-storey building but had been "absolutely covered in ash". Sophia, about 500m away, could see the flames burning and people crying for help.
14 Jun 2017
London fire- At least six dead, toll expected to rise
The blaze at London's 24-storey Grenfell Tower was brought under control after almost ten hours.
At least six people have been killed, but the number is likely to rise. About 50 victims were taken to five hospitals.
Many were seen jumping out of windows. Some also threw children out.
At the peak of the blaze, firefighters had managed to reach only the 12th floor.
Relief
Authorities provide relief to locals
A church nearby, St Clement's, has been turned into a relief camp. Many evacuees from adjacent buildings were also brought here in fear the fire might spread.
An emergency number (08000961233) had been set up where people can call and enquire.
The reason for the blaze is not yet known, but locals had reportedly raised concerns about fire safety several times.
15 Jun 2017
London- Death toll of Grenfell fire rises to 17
The death toll in the massive fire at London's Grenfell Tower has reached 17, but the number is likely to rise as many are still critical or missing.
The fire brigade searched the building in the night, but didn't find any survivor.
Hundreds have been left homeless; victims have been sheltered in a nearby sports centre, hotels and volunteers' houses.