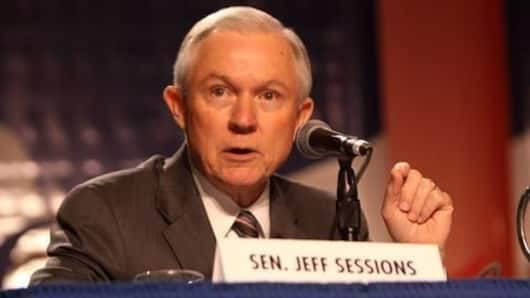 US attorney general denies having secret meetings with Russian officials
US Attorney General Jeff Sessions denounced suggestions that he colluded with the Russia as "an appalling and detestable lie."
In a heated testimony to the Senate Intelligence Committee, he denied having secret meetings with Russian officials at Washington DC.
Sessions is the senior-most Trump administration official to testify before Congress in the investigation into Russia's alleged election interference and collusion with the Trump campaign.
Sessions declines to divulge important information
Sessions declined to say if Trump opposed his decision in March to recuse himself from the Russia investigation. He also refused to say whether officials in the Justice Department discussed potential presidential pardons for individuals being investigated.
Sessions dodges questions, has tensed exchanges with Democratic lawmakers
Credits:
Sessions had tensed exchanges with Democratic lawmakers over his refusal to divulge information on his conversations with Trump.
One lawmaker accused Sessions of "impeding" the investigation.
"I believe the American people have had it with stonewalling," Democratic Senator Ron Wyden told Sessions
"I am not stonewalling," Sessions responded, adding that as per Justice Department policy, he can't divulge confidential communication with the president.
Love World news?
Stay updated with the latest happenings.
Yes, notify Me
Sessions vows to defend himself against "false allegations"
During his testimony, Sessions vowed to defend his honor "against scurrilous and false allegations." Sessions statement came after former FBI director James Comey said during his own Congressional testimony that he believes he was fired by Trump to influence the agency's investigation into Russia.
Sessions vehemently denies speaking to Russian officials about election
"I have never met with or had any conversation with any Russians or any foreign officials concerning any type of interference with any campaign or election in the United States," Sessions said.
He admitted meeting Russian Ambassador Sergei Kislyak twice.
Sessions couldn't recollect whether he met Kislyak for a third time in April 2016 at Washington DC's Mayflower Hotel, as media reported.
Sessions's testimony gives no new damaging information on Trump
Sessions's testimony didn't give any new damaging information on the Trump campaign's alleged Collusion with Russia or on Comey's firing. However, his refusal to answer key questions directly raises doubts on whether the White House has something to hide.
Sessions oversees FBI, had concerns about Comey long before firing
Sessions said he never spoke to Comey about his job performance before his dismissal.
Comey was fired on Sessions's recommendation, raising questions that this may have violated his recusal from the Russia investigation.
Sessions said he had concerns about Comey's job performance before he was appointed attorney general.
He refused to comment about his discussion with Trump over the FBI's Russia probe handling.