Teacher suspended for editing out Trump references from yearbook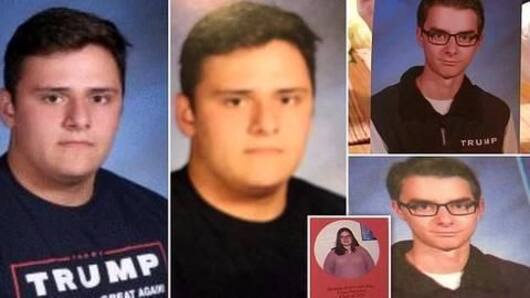 Susan Parsons, a senior teacher at New Jersey's Wall Township High School, has reportedly been suspended after she allegedly edited out references to US President Donald Trump from the school yearbook.
Photographs of two students were edited to remove Trump's name and his slogan "Make America Great Again" from their tees.
Parsons was advising the yearbook production team. She is now on paid leave.
In context
New Jersey teacher suspended after 'anti-Trump' censorship
Details
Act might amount to 'violation of First Amendment rights'
Grant Berando and Wyatt Dobrovich-Fago had their photos altered, while the latter's sister had a Trump quote removed from her bio.
"References to...President Trump were involved in each incident," confirmed school superintendent Cheryl Dyer.
Students said other references to the 2016 election weren't altered.
Dyer added the act might amount to "censorship and the possible violation of First Amendment rights" to free expression.
Protest
Parents demand correctional steps
Joseph Berardo, Grant's father, demanded the yearbooks be reissued with an explanation letter. He said it would have been "equally" egregious if references to Hillary Clinton had been removed.
"What message did the school send?" he asked.
Janet Dobrovich-Fago, the brother-sister duo's mother, told CNN: "I want to know who thought it was OK to do this."