Russia rejects Islamabad's claims of Putin's mediation in Indo-Pak ties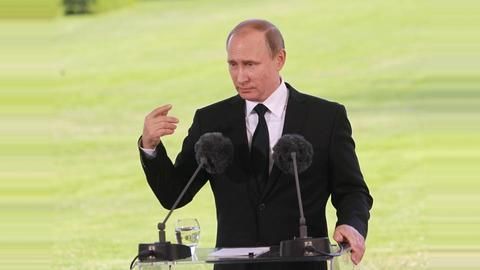 Russia has rejected reports quoting a senior Pakistani official that Russian President Vladimir Putin expressed his interest in mediating between India and Pakistan.
Moscow has rejected the reports, calling it Pakistan's "wishful thinking," according to a senior diplomat in the Russian embassy, New Delhi.
The Indian External Affairs Ministry (EAM) said Russia hasn't made any offer to mediate on Indo-Pak issues.
In context
Russia calls Pakistan's claims "wishful thinking"
Russia rejects reports, says Indo-Pak issues must be resolved bilaterally
A senior Russian diplomat responded saying: "We do not have any information of such an offer made by our president. Russia is clear in its position that Indo-Pak issues need to be resolved, bilaterally, and we will never ever suggest anything contrary to that."
What happened?
Pak official said Putin had made mediation offer to Sharif
Pakistan Foreign Office spokesman Nafees Zakaria was quoted by Pakistan media as saying: "we welcome UNSC Permanent Member Russia's attention and intention to play a role in this long-standing issue on the UNSC agenda."
Zakaria was responding to questions about an offer reportedly made by Putin to Pakistani PM Nawaz Sharif when both leaders met on the sidelines of the SCO summit last week.
Love World news?
Stay updated with the latest happenings.
Notify Me
Russia 'well aware' of India's position on Indo-Pak ties
External Affairs Ministry spokesperson Gopal Baglay said, "No offer of mediation was made by Russia to India." He added, "Russia is very well aware of India's consistent position to address all outstanding issues with Pakistan bilaterally in an environment free of terrorism and violence."