World
Taslima Nasreen's Indian visa extended again for a year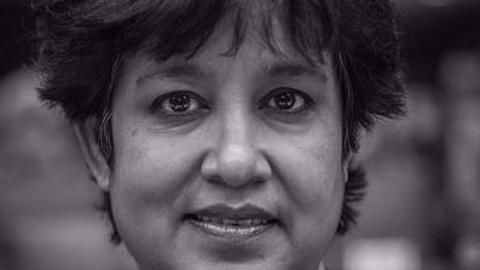 Bangladeshi author Taslima Nasreen has had her Indian visa extended again for one year w.e.f. July 23.
The Swedish citizen has been getting Indian visa continuously since 2004.
The author left her motherland in 1994 in secrecy, amid threats to her life by fundamentalist groups.
Since then, she has stayed in US and Europe too, but says she wants to settle down in India.
In context:
Taslima Nasreen's tryst with India
1993

How 'Lajja' made life hell for Nasreen
Nasreen, receiver of over 20 literary awards and numerous other honors, has lived a life mired in controversies, facing much opposition from fundamentalists.
After the publication of 'Lajja', Nasreen's life took a dramatic turn. It angered Muslim groups and she faced many physical attacks.
Eventually, the attacks turned into death threats and after spending two months in hiding, Nasreen fled to Sweden.
Kolkata

Her temporary Kolkata stay was violent too
Nasreen moved to Kolkata after spending 10 years in exile, but her stay there turned out to be temporary.
Muslims in Kolkata also opposed the move.
After a violent protest against her caused chaos and turned into riots in November 2007, Nasreen was forced to leave the city to live in New Delhi under house-arrest.
Love World news?


Stay updated with the latest happenings.
Citizenship

The demand for Indian citizenship
After the Kolkata chaos, Nasreen was kept under house arrest for more than seven months by the Indian government.
After literary and movie industry stalwarts came to her support, she was granted a Resident Permit after a few years, but no decision has been taken yet on her application for permanent residency.
One-year extensions on Indian visa every time

Nasreen was granted a one-year extension of her Indian visa in 2014, and then again in 2015 and 2016. She has often said failure to settle in India might cause an "identity crisis" for her and affect her work.
20 Jun 2017

Taslima Nasreen's Indian visa extended again for a year