World
China: 100 feared buried in Sichuan landslide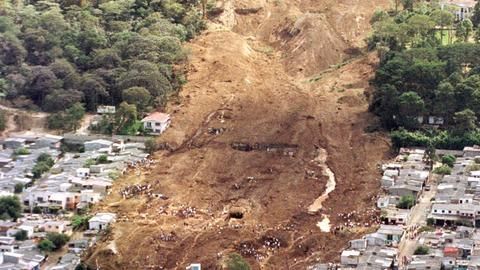 Heavy rains triggered a landslide in a village in southwest Sichuan province in China.
Search was launched as 100 people were feared buried in the landslide that had charged at the village.
Authorities revealed that the side of a mountain had collapsed and "40 homes in the village of Xinmo were swallowed by huge boulders".
Rescue operations were underway and medics were arriving.
In context:
Landslide in China, 100 feared buried
Landslides in China

Landslides, a common danger in rural China
China's rural population often has to face adversity through landslides.
In December 2015, a landslide caused by improper storage of waste in Shenzhen killed more than 70 people.
In October 2016, Typhoon Megi led to landslides in eastern China that killed 8 people, causing widespread damage.
In January 2017, 12 people were killed after a hotel was crushed in Hubei province by a landslide.
24 Jun 2017

China: 100 feared buried in Sichuan landslide
Love World news?


Stay updated with the latest happenings.
Village buried under 3 million cubic meters of earth

Chinese media

reports estimated that "3 million cubic meters (105 million cubic feet) of earth and rock had slid down the mountain" because of the landslide.
24 Jun 2017

Rescue operations underway, full extent of damage unknown
Authorities revealed that an emergency response "to the first class catastrophic geological disaster" was under way, though the full extent of damage was unclear.
Approximately 400 rescuers, including the police, had been deployed.
Chinese authorities are trying to ascertain if any tourists are buried under the landslide as the village is known for tourism and its scenic beauty.