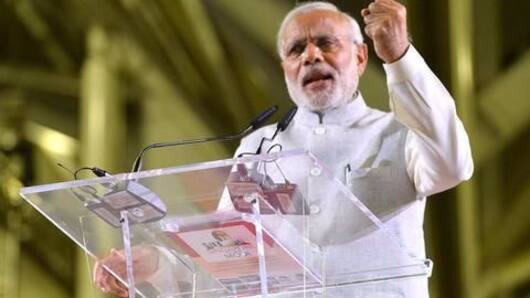 PM Modi arrives in Washington DC, will meet Trump tomorrow
After stopping in Portugal, PM Modi has now arrived in Washington DC for a two-day visit, the first under Donald Trump's Presidency. The two leaders are expected to discuss strategically important issues.
On Day 1, Modi is scheduled to interact with top American businessmen including Apple CEO Tim Cook and Google's Sundar Pichai and attend an event organized by the Indian community in DC.
Trump administration's approach to India
The durability of Indo-US partnership, which has been flourishing over the past decade under Presidents Bush Jr. and Obama has been shaky under Trump's Presidency.
Frictions arose over matters including tightening the H-1B visa norms, severely affecting Indian IT companies in the US, and sporadic attacks against Indians in the US.
Trump had also accused India of accepting money to sign the Paris Agreement.
You are important to us: White House reassures India
A senior official had earlier noted that Trump views the US-India strategic partnership as critical to promoting global and regional peace and stability in the Asia-Pacific. US had also approved the sale of 22 Guardian drones to India, in a bid to boost defence ties.
Love World news?
Stay updated with the latest happenings.
Yes, notify Me
Modi to be hosted in White House
While Chinese President Xi Jinping and Japanese PM Shinzo Abe were hosted at state dinners at Trump's private Mar-a-Lago golf resort in Florida, Modi will be the first foreign leader to be hosted at the White House.
The two leaders are expected to spend around five hours with each other in various settings including bilateral discussions, delegation-level talks and a White House dinner.
Tweet! tweet!
President Trump tweeted that he is looking forward to hosting Modi and discuss important strategic issues in the White House. Senator Kamala Harris tweeted that the PM's visit will re-affirm bonds between the two nations.
What will the discussions be on?
The White House said that the June 26 meeting between US President Donald Trump and Indian PM Narendra Modi would "set forth a vision that will expand the US-India partnership in an ambitious and worthy way".
The leaders are expected to deliberate upon a range of issues including defence and security co-operation, the Indo-US civil nuclear deal and India's concerns over the H-1B visas.
What now?
Although the US and India have evolved as indispensable partners in the past few years, the Trump administration has leaned towards revising many traditional foreign policy prescriptions including the pivot to Asia-Pacific.
However, maintaining good ties with India is imperative for Washington to secure its interests in the region, including fighting terrorism in Afghanistan.