#ModiInUS: US designates Hizbul chief Syed Salahuddin as a 'global-terrorist'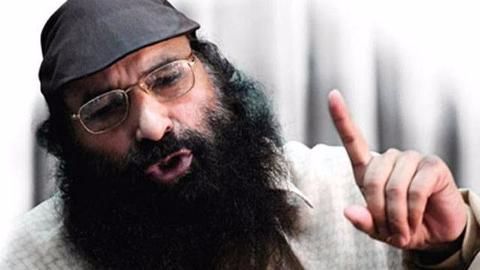 Ahead of PM Modi's meeting with Trump, the US named Hizbul Mujahideen Chief, Syed Salahuddin as a 'Specially Designated Global Terrorist', tacitly justifying India's position that cross-border terrorism has been fuelling violence in Kashmir.
"It underlines strongly the fact that both India and the US face the threat of terrorism and are working together to counter this threat", stated MEA spokesperson Gopal Baglay.
In context
Growing India-US convergence on counter terrorism
US recognizes Salahuddin as a threat to their interests
Salahuddin has been named as a terrorist, "who has committed, or pose a significant risk of committing, acts of terrorism that threaten the security of US nationals or the national security, foreign policy, or economy of the United States."
About
Who is Syed Salahuddin?
Salahuddin has been arming and training youth since the early 80s fuelling anti-India militancy in Kashmir.
He also heads the United Jihadi Council, an umbrella body of terrorist groups in Kashmir set up in the 90s.
He has blatantly been against India-Pakistan dialogue on the peaceful resolution of the Kashmir issue and claims responsibility for the 2014 explosion which claimed 17 lives in Kashmir.
Love World news?
Stay updated with the latest happenings.
Notify Me
28 Jun 2017
Over 50 cases lodged against Hizbul chief Syed Salahuddin
Hizbul Mujahideen chief Syed Salahuddin is wanted in over 50 cases, including a Rs. 80cr terror-funding case. He also has an Interpol Red Notice pending.
His encounter with illegal activities began in 1987, when he contested polls and was booked for seditious speech.
Chargesheets have been filed in few cases, while investigation is ongoing in others. However, processes have been delayed as he is absconding.
Cases
Prominent cases where Salahuddin is wanted
The United Jihad Council chief is involved in several cases, including the 2012 murder of SP Mohammad Amin Khan and a 2002 attack on PDP workers in Budgam in which three cops were killed.
In 2006, he ordered hurling of grenades at a bus in Srinagar. Several were injured.
Former DGP Rajendra Kumar said cases were registered against Salahuddin in all attacks involving Hizbul.
Details
What did the state department notification say?
The State Department designation prohibits Americans from engaging in all transactions with Salahuddin and blocks all his property falling under US jurisdiction.
Echoing India's views, it recognized that Hizbul Mujahideen under Salahuddin has orchestrated several attacks including the 2014 Kashmir explosion.
He has further threatened to train several suicide bombers and has vowed to turn Kashmir into "a graveyard of Indian soldiers", it adds.
Significance
What does this signify?
The state department notification is significant for echoing India's views on terrorism.
President Trump had earlier demonstrated a tough stance against home-grown terror, he even named India as one of the countries victimized by terrorism during his Middle east visit.
Despite minor differences arising on the economic front including over H-1B visas, India-US co-operation on counter terrorism is likely to grow strong under Trump.