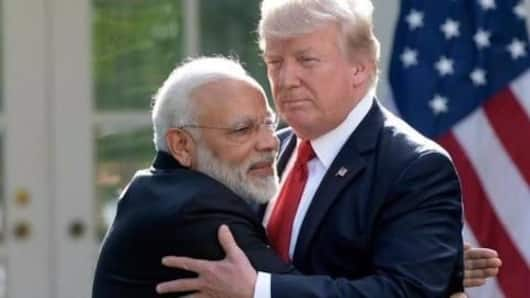 Trump greets Modi warmly, says India-US relations never been stronger
Indian PM Narendra Modi was greeted with a firm handshake and a broad smile by US President Donald Trump at the White House in Washington, DC.
Following his first meeting with Modi since becoming president, Trump said US-India ties have "never been stronger."
Modi said America was India's "primary partner" in its socio-economic transformation.
Both leader hugged each other after a joint press conference.
Trump praises Modi for doing a "great job" as PM
As both leaders met at the Oval Office, Trump praised Modi saying he is a great prime minister.
"Economically, India is doing very well," Trump said, congratulating Modi for doing a "great job."
Modi thanked Trump and the First lady for their warm welcome.
After the Oval office meeting, the two leaders held delegation level talks and later issued a joint press statement.
Trump and Modi vow joint Indo-US cooperation against terrorism
In a joint press briefing, Modi said he and Trump "talked about terrorism, extremism and radicalization and agreed to cooperate on this."
Trump said, "Both our nations have been struck by the evils of terrorism and we are both determined to destroy terrorist organizations."
Modi said, "we will also enhance our sharing of intelligence, and exchange information to deepen and expand our policy coordination."
Love World news?
Stay updated with the latest happenings.
Yes, notify Me
Modi, Trump warn Pakistan over terrorism
Indian Foreign Secretary S Jaishankar said both leaders called on Pakistan to not let its territory be used for terrorist activities.
Ahead of the Modi-Trump meeting, the US State Department declared terror group Hizbul Mujahideen chief Syed Salahuddin, a Specially Designated Global Terrorist.
India hailed the move as vindication of its longstanding stance on cross-border terrorism from Pakistan.
Trump and Modi agree to boost defense cooperation
"Thank you for ordering equipment from the US, no one makes military equipment like the US," Trump said.
Modi said he and Trump spoke "about strengthening bilateral defense technology and our trade and manufacturing partnership" which would be "mutually beneficial."
Both leaders also spoke of improving cooperation between their respective militaries, especially in the Indo-Pacific region.
Modi's invites Trump and his family to India
"PM Modi invited my daughter Ivanka to lead US delegation to the global entrepreneurship in India, and I believe she has accepted it," Trump said. Modi also invited Trump and his family to India.
Trump wants India to remove trade "barriers" on US goods
Trump said he was pleased to hear about Spice Jet order of 100 new planes from Boeing.
Trump said he'd work towards creating a "fair and reciprocal" trading relationship with India and called on New Delhi to remove "barriers" for US exports into India.
Modi said increased bilateral trade and commerce are common priorities for both countries.
US hopes to catch up with world's fastest growing economy
"India is the fastest growing economy in the world. We hope we will be catching up with you very soon," Trump said. Modi said his "vision for a new India" and Trump's "vision for 'making America great again" have synergies.