World
SC partly lifts Trump's travel ban: what does it mean?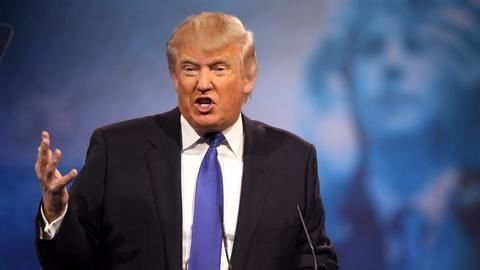 US President Trump welcomed the Supreme Court's decision to allow parts of his travel ban to go into effect.
Trump hailed the court's "unanimous" decision saying it's a "victory for our national security."
This marks a big win for Trump after lower courts struck down his executive orders sanctioning the ban.
Who all are affected by the ruling? What are its consequences? We explain.
In context:
Implications of American SC's ruling on travel ban
Background

Trump's battle with judiciary over immigration ban
On January 29, President Trump signed an executive order banning citizens from seven Muslim countries from entering the United States.
On February 3, a Washington federal judge suspended the ban.
On March 7, Trump issued a new executive order, banning citizens of six countries and refugees.
On March 16, a Hawaii federal judge blocked Trump's renewed travel ban.
28 Jun 2017

SC partly lifts Trump's travel ban: what does it mean?
Love World news?


Stay updated with the latest happenings.
Implications

What happens next?
A 90-day ban on citizens from six blacklisted countries, namely - Iran, Libya, Somalia, Sudan, Syria and Yemen - will come into place from Thursday, June 29.
Refugees are also banned from entering the US for 120-days.
The Supreme Court justices said they would consider whether to uphold or strike down travel ban in October.
The court will the hear lawsuits against the ban.
Decision

What the US Supreme Court ruling says
The Supreme Court ruled that the executive order can't be "enforced against foreign nationals who have a credible claim of a bona fide relationship with a person or entity in the United States."
All other foreign nationals are subject to the executive order's provisions.
The 120-day ban on all refugees entering the US has been allowed to go into effect.
What is a 'bona fide' relationship?

A bona fide relationship includes individuals coming to the US to live with or visit a family member, to study, to work, or are lecturers invited to address an American audience. Grandparents, grandchildren, aunts, uncles, nieces, nephews, in-laws and extended family aren't considered "bona fide".
Explained

What does this mean?
The partial ban will come into effect on Thursday, June 29.
It remains unclear whether foreign nationals from the six blacklisted countries or refugees having a valid visa would have to prove to customs whether they have 'bona fide' ties to the US.
For now, it appears the only people likely to be affected are tourists who aren't visiting their relatives in the US.
Love World news?


Stay updated with the latest happenings.
30 Jun 2017

Trump's travel ban partially comes into effect
From midnight on June 29, US President Donald Trump's travel ban has partially come into force. People from six countries and refugees will now face tougher immigration processes.
For 90 days, only "bona fide" relatives of people from Iran, Libya, Somalia, Sudan, Syria and Yemen will be able to enter.
Those who have business/educational ties, or those who already have visas, won't be affected.