Dissident Venezuelan cop steals helicopter, throws grenades at Supreme Court
World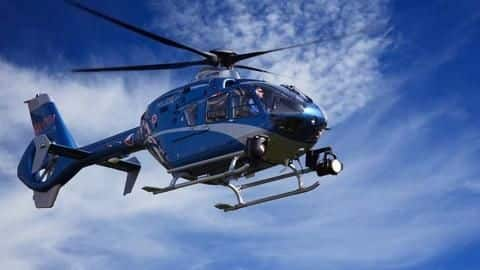 Venezuelan President Nicolas Maduro said a helicopter had attempted to bomb the nation's Supreme Court, calling it a "terrorist attack."
A police helicopter pilot named Oscar Perez claim in a video released on Instagram that he stole a police helicopter to protest against the Maduro regime.
Maduro said the helicopter launched grenades and gunfire. No injuries or deaths were reported.
Information
Venezuela is facing economic and political turmoil
The incident comes amid a worsening economic and political crisis in Venezuela, a country that has faced months of shortages of food, medicines and other essential items. There have been almost daily protests against Maduro's leftist government. Protest-related violence has killed over 70 people.
What happened?
Helicopter flew with protest banner over Venezuelan capital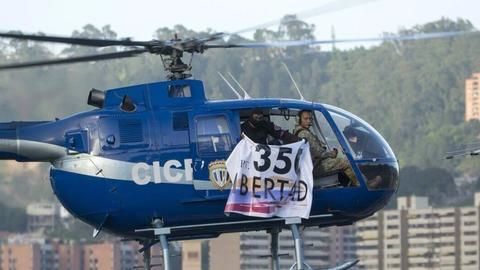 Photographs and video posted online show a blue police helicopter with a banner displaying "Article 350" flying above the Venezuelan capital Caracas.
Article 350 refers to an article in the Venezuelan constitution which allows citizens to oppose the government if it violates democratic principles.
The chopper circled around the city and a loud bang was heard.
Who did it?
Police officer who stole helicopter slams Maduro's "criminal government"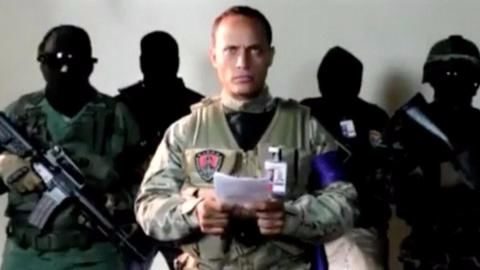 In an online video, Perez was seen wearing his pilot's flight suit, surrounded by armed and masked men in uniform
"We are a coalition of military employees, policemen and civilians who are looking for balance and are against this criminal government," Perez said.
Perez said his group has no political affiliations and called on Venezuelans to oppose the Maduro government's "tyranny."
Quote
Maduro vows to capture perpetrators of the "attack"
"I have activated the entire armed forces to defend the peace," Maduro said after the incident. "Sooner or later, we are going to capture that helicopter and those who carried out this terror attack," he added. An investigation into the alleged attack has been launched.