Sikkim stand-off: Chinese media warns against India's 'arrogance'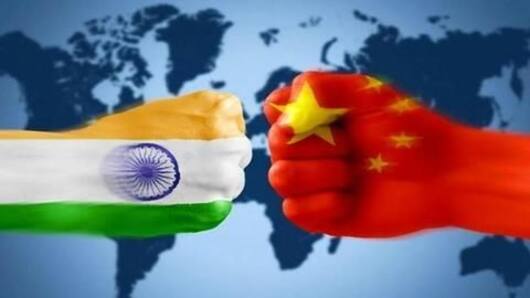 Commenting on the tense stand-off between Indian and Chinese troops along the Line of Actual Control (LAC) in Sikkim, Chinese media recommended that China teach India, the "rules of the game".
It further sharply warned New Delhi to not be arrogant and recommended all necessary means to push Indian troops back.
Let's know more on how Chinese media views the stand-off!
In context
Sikkim stand-off: Chinese media hits back at India
LAC
Line of Actual Control: Disagreements over varying perceptions
LAC is the 4,056 km-long boundary separating Indian territory from Chinese-controlled territory.
It passes through 5 Indian states including Jammu and Kashmir, Uttarakhand, Himachal Pradesh, Sikkim and Arunachal Pradesh.
Due to differing territorial perceptions, India and China disagree on large parts of the border, with India frequently reporting Chinese transgressions on to its territory, which China claims as its own.
Context
What context is this happening in?
A recent statement from China's People's Liberation Army (PLA) accused Indian troops of stopping China's road construction in the Dong Lang Area near Sikkim.
India maintains that its troops stopped the PLA which transgressed into the Doka La area and destroyed two bunkers.
China had also stopped Kailash-Mansarovar pilgrims from crossing through the Nathu La pass in Sikkim to Tibet.
Love World news?
Stay updated with the latest happenings.
Notify Me
PLA transgression around Sikkim: A rare instance
China opened up the Nathu La pass connecting Sikkim to China's Tibetan Autonomous region in 2006 taking into account the relatively undisputed nature of the border. The Kailash-Mansarovar Yatra undertaken through Nathu La had emerged as a major confidence building measure afterwards.
Details
Chinese media takes a sharp tone with India
Global Times, a Chinese nationalist daily pinned the blame for provoking tensions on the Indian army, the defence and external affairs ministries.
Warning India against arrogance, it reminded India that it lagged far behind China in terms of military and economic strength.
Maintaining friendly ties with New Delhi is Beijing's basic policy but this must be based on mutual respect, it further added.
Is China really uncomfortable with strengthening India-US ties?
Soon after PM Modi met with President Trump, Global Times had warned that India's attempt to join US in countering China will lead to "catastrophic results". Reminding India that it cannot pick a fight with China, it termed US's strategic support to India "superficial."