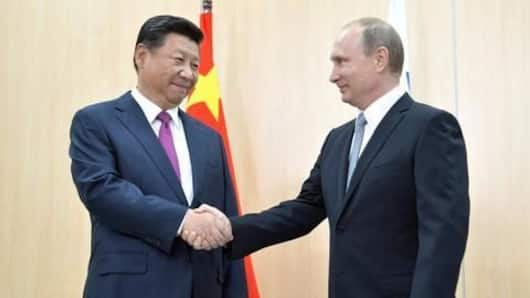 China's Xi to meet Putin in Moscow amid closer ties
Chinese President Xi Jinping will arrive in Moscow for talks with his Russian counterpart Vladimir Putin.
Putin has described the visit as "the year's major event in bilateral relations."
Both leaders are expected to discuss trade, security and geopolitical issues, and sign bilateral contracts worth $10 billion.
The two have met over 20 times since Xi became president in 2012, signalling their close relationship.
Trade with China crucial for sanctions-hit Russia
Credits:
China-Russia bilateral trade has risen 33.7% to $32.8 billion this year. China is Russia's biggest trading partner.
"I believe the quality and quantity of economic and trade cooperation between the two countries will continue to rise," said China's ambassador to Moscow.
Bilateral trade ties matter more for Russia, given that its economy was hit heavily due to Western sanctions.
Leaders expected to expand regional trade integration initiatives
Xi and Putin are expected to discuss how to increase Russia's role in China's One Belt, One Road (OBOR) Initiative, which plans to improve trade and infrastructure links between Asia and Europe.
It also has consequence for Russia's Eurasian Economic Union (EAEU) which looks to improve regional integration.
In 2015, China and Russia agreed to synergize the EAEU and OBOR, benefiting both.
Love World news?
Stay updated with the latest happenings.
Yes, notify me
Energy trade a win-win for Russia and China
The Russian economy is heavily dependent on energy exports.
Energy-starved China, which is overly dependent on the Middle East, is among its biggest customers.
In 2014, Russia signed a $400 billion, 30-year deal to supply natural gas to China. The deal included plans for the "Power of Siberia" gas pipeline to China.
Putin and Xi may discuss how to increase bilateral energy trade.
China still depends on Russia for most advanced defense equipment
China-Russia defense relationship remains difficult.
In the past, Beijing purchased several advanced weapons platforms from Russia and reverse engineered them, angering Russia.
China now relies less on imports and has a burgeoning indigenous defense industry but remains dependent on Russia for more sophisticated systems.
It recently purchased the Russia's most advanced fighter jet, the Sukhoi-35 and the S-400 missile defense system.
China-Russia converge on several geopolitical issues
Credits:
Russia and China share similar stances on several issues.
Both have called for a political solution to the Syrian conflict and nuclearisation of North Korea.
The Russia-China convergences on various issues are seen in the UN, Shanghai Cooperation Organization and BRICS.
More importantly, both countries remain wary against the hegemony of the US and its allies in shaping the world order.