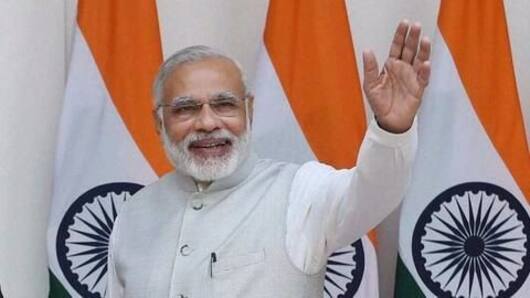 Baby Moshe, Mumbai terror attack survivor, meets PM Modi
During his 3-day visit to Israel, PM Modi has met Moshe Holtzberg, an Israeli-child who survived the 26/11 attack in Mumbai as a toddler.
Moshe was two years old at that time, and had lost both his parents.
He greeted Modi with a "Namaste, I love you,"; PM responded by inviting him to India.
Modi's decision to visit Moshe has elated the Jewish community.
Moshe's story of tragedy and survival
Credits:
Chabad House was stormed by terrorists shortly before Moshe's second birthday.
Moshe, his parents Gabriel and Rebbeca Holtzberg, and other tourists were taken as hostages.
Moshe's Indian nanny, Sandra, was also in the building but managed to hide.
She later found Moshe crying in between his parents' bodies, grabbed him, saw an opportunity and fled the building.
Baby Moshe and his nanny Sandra are still close
Moshe's India nanny Sandra was granted honorary citizenship in Israel due to her bravery. After rescuing Moshe, she went back with him to Israel and lives within 100 km of Moshe. She is one of Moshe's favourite people.
Love World news?
Stay updated with the latest happenings.
Yes, notify Me
Moshe's life after the 26/11 attack
10 year-old Moshe currently lives in Afula, Israel, with Rabbi Shimon Rosenberg and his wife Yehudit Rosenberg.
As of now, Moshe wants to grow up to become a Rabbi like his late father, Gabriel.
He is currently pursuing preliminary religious studies, and plans to return to Chabad House two years later when he would be 13.
Modi's move pleases the Jewish community
PM Modi's decision to meet Moshe was lauded by the Jewish community in Mumbai.
The present Rabbi of the Nariman House in Mumbai, Rabbi Israel Kozlovsky told India Today that the meeting between PM Modi and Moshe has elated the Mumbai Jewish community.
Moshe's guardian, Rabbi Shimon Rosenberg said that the meeting was symbolically important as PM Modi would be representing 125 crore Indians.