G20 protests turn violent, 76 policemen injured in clashes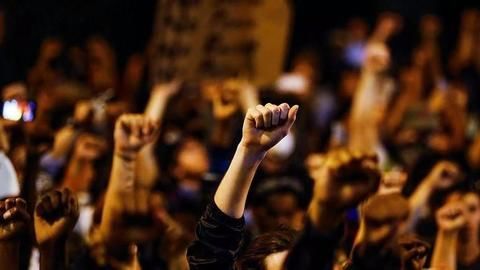 76 policemen were injured in clashes with protesters, who were participating in the "Welcome to Hell" march in Hamburg, against the G20 summit.
The violence was reportedly triggered when the police employed pepper sprays and water canons at the protesters, who retorted with flares and stones.
Leaders of major economies including PM Modi and President Trump are set to attend the summit.
In context
G20 protests: What to make of them?
G20 summit
What context is this happening in?
Germany is hosting representatives from world's major economies and international organizations for the 12th G20 summit to be held during 7-8 July.
Leaders will deliberate upon crucial questions concerning international financial management and climate change.
The theme for this year is 'Shaping an Inter- connected World'.
Security had been beefed up in Hamburg anticipating protesters, who greeted the leaders with 'Welcome to Hell".
When zombies protested the G20 summit!
A German collective, '1000 Gestalten' protested uniquely, with about 1000 actors dressed up as zombies clawing silently through the streets. The performance, intended to highlight humanity and self-responsibility, concluded after a performer ripped apart the zombie costume to reveal his colourful clothes underneath.
Love World news?
Stay updated with the latest happenings.
Notify Me
Clashes
What transpired?
Sources conflict on who started it although the police reportedly used water canons against protesters who used flares and bottles.
While the march was cancelled after the clashes, the spread of violence to other areas in the city resulted in vehicles and businesses set ablaze.
The protesters who shone a laser at a police helicopter further managed to cause eye injuries to the pilots.
Disagreements galore
German Chancellor Angela Merkel famously does not get along with President Trump, although the two met shortly before the clashes and discussed issues including North Korea and the Ukraine conflict. Trump further accused Russia of destabilizing Ukraine, while speaking in Poland earlier.
Analysis
What does this mean?
G20 forum is routinely used by protesters to bring world leader's attention to important matters including LGBT rights.
Violence can be seen as a manifestation of urgency with respect to international attention required to address challenges including terrorism and climate change.
Rampant violence could further mar Merkel's chances for a fourth term, although she can turn it around with consensus-building at the summit.