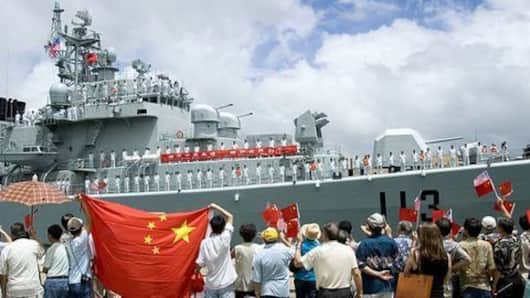 China sends troops to overseas base, should India be concerned?
Chinese state media have reported that ships carrying Chinese troops have departed for Djibouti to set up the country's first overseas military base.
The base is a sign of China's emergence as a dominant military power in the world.
The base is a potential matter of concern for India given its strategic location in the northwestern edge of the India Ocean.
China claims base is meant for peacekeeping and humanitarian aid
Credits:
The ships departed from Zhanjiang, southern China, on July 11 with an unspecified number of troops.
The Xinhua news report doesn't mention when the military base in Djibouti would be operational.
Beijing claims it will use the base for peacekeeping operations and distribute humanitarian aid in Africa and the Middle East.
It will also be used for naval exercises and rescue missions.
Chinese media says Beijing isn't 'seeking to control the world'
Djibouti is a tiny country situated strategically at the Horn of Africa, a narrow seaway that is a very busy shipping route.
China's base is seen as a means of boosting its regional military presence.
However, an editorial in the Chinese daily Global Times said the base is meant to "protect China's safety, and is not about seeking to control the world."
Love World news?
Stay updated with the latest happenings.
Yes, notify Me
What this China's new overseas military mean for India
The base has raised concerns in New Delhi that Djibouti could become another of Beijing's "string of pearls."
This is the name given to a strategy by Beijing to build military alliances with countries like Pakistan, Sri Lanka, Myanmar and Bangladesh to encircle India.
The base is located on the Indian Ocean's northwestern edge, a potential choke point to cut-off India's maritime trade.
China's growing economic footprint in Africa
In 2015, China pledged to invest $60 billion to develop Africa at a major summit with African countries.
China is the continent's largest trading partner and has invested considerable funds and manpower into big-ticket infrastructure projects, including railway lines and highways.
African countries supply China with natural resources in return.
The military base can be seen as China's attempt at protecting its regional interests.