India, UK to forge stronger trade ties post-Brexit: PM May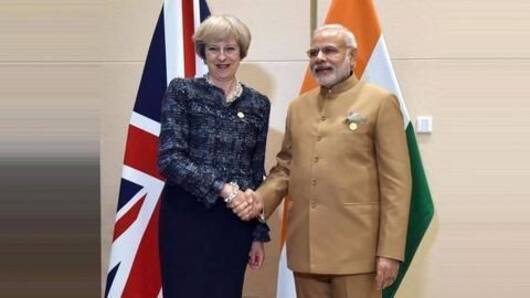 Speaking to the Parliament, British PM Theresa May identified India as one of the countries that is ready to 'forge ambitious trading relationship with the UK' after Brexit.
She also said that she and PM Modi discussed a range of issues including addressing modern slavery at the sidelines of the recent G20 summit held in Hamburg.
Could Brexit move India and UK closer?
In context
May lays out UK trade strategy post-Brexit
What is Brexit?
The process on Britain's exit from the EU was triggered when the results of a June 2016 referendum indicated that 52% of the voters wanted Britain to leave the Union. 'Leave' supporters wanted Britain to be rid of quintessential EU regulations including harmonized economy.
Details
What did May say?
Along with India, the UK is also set to form trade deals with countries including US.
Responding to opposition leader Jeremy Corbyn's query on striking new trade deals, she replied that working groups had already been established with India, US and Australia.
Answering another question on meeting with PM Modi, she said that UK wants the world to strictly address slavery and child prostitution.
Love World news?
Stay updated with the latest happenings.
Notify Me
UK trade post-Brexit
May outlines UK's priorities for forging trade relations
May noted that the UK government is working on three areas for post-Brexit trade.
First, the UK is looking to forge relations with countries it does not have with as a EU member.
A second area of focus is to carry forward trade agreements with EU countries.
Thirdly, the focus is on improving trade ties with countries such as India.
What did Modi and May discuss?
Along with possibilities on improving trade relations at the sidelines of the G20 summit, Modi and May are reported to have discussed matters including extradition of Indian offenders including Vijay Mallya and Lalit Modi, former chief of the Indian Premier League.