World
Trump says White House mood is "fantastic" despite Russia allegations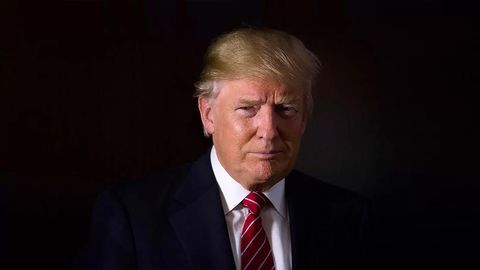 US President Donald Trump said in an interview that the mood in the White House is "fantastic" despite his administration facing intense scrutiny over its alleged ties to Russia.
Trump said his administration is "functioning beautifully."
He also defended his son, who recently admitted to meeting a Russian lawyer last year believing she had information that would damage Trump's opponent Hillary Clinton.
In context:
Trump opens up on son's revelations, Putin
10 Jul 2017

Trump's son, son-in-law met Russian lawyer over Clinton info
On July 10, President Donald Trump's son agreed to meeting Natalia Veselnitskaya, a Kremlin-linked Russian lawyer last year, after being promised damaging information about Trump's rival Hillary Clinton.
Donald Trump Jr. said "no meaningful information" on Clinton was shared, the New York Times reported.
The president's son-in-law Jared Kushner also attended the meeting.
12 Jul 2017

Trump Jr.'s emails shows him welcoming Russian material on Clinton
On July 11, an email chain from June 2016 released by Trump Jr. showed him keen to accept "sensitive" information on his father's rival Hilary Clinton from a Russian citizen.
Trump Jr. was told the information was part of the Russian government's attempt at damaging the Clinton campaign.
This comes amid investigations into the Trump campaign's alleged collusion with Russia in the presidential election.
Love World news?


Stay updated with the latest happenings.
13 Jul 2017

Trump says White House mood is "fantastic" despite Russia allegations
Trump's comments a response to media reports

Trump's comments come after the Washington Post reported the White House is in chaos over revelations of his son Donald Trump Jr.'s meeting with the lawyer Natalia Veselnitskaya. The Post cited a Trump ally who described the White House state as a "Category 5 hurricane."
On Russia probe

Trump dubs allegations of Russian links 'hoax by Democrats'
US intelligence agencies believe Russia tried to influence the US presidential elections in Trump's favor.
Agencies are investigating the Trump campaign's alleged ties to Russia. Trump has repeatedly denied any links.
In the recent interview to Reuters, Trump dubbed the allegations "a hoax made up by the Democrats."
Trump said he was unaware of his son's meeting with Veselnitskaya until a few days ago.
Trump says he gets along "very well" with Putin

In a separate interview with the Christian broadcasting network, Trump said he gets along "very well" with Russian President Vladimir Putin after their meeting last week. He cited the recent ceasefire in south-western Syria as an example of good cooperation with Putin.
Love World news?


Stay updated with the latest happenings.
Details

Trumps says Putin would prefer Hillary Clinton as president
Trump said Putin would've preferred to have his Democratic opponent Hillary Clinton in the White House.
"If Hillary had won, our military would be decimated," he said.
"Our energy would be much more expensive. That's what Putin doesn't like about me."
Trump said he asked Putin twice if Russia meddled in the US election. Both times Putin said "absolutely not."