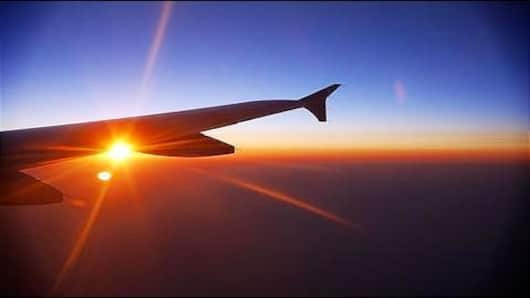 Meet this super-commuter who flies to work every day
Do you moan about your few hours' daily commute and busy traffic? Think about those who travel between cities for work.
Curt von Badinski, Co-founder of fitness tech company Motiv, has a six-hour commute to San Francisco from Burbank every single day.
He takes a plane from Los Angeles to cover most of the 1,250km journey. Interesting!
What's it like to fly to work?
All Badinski needs is two cars and a plane
On a work day, Badinski wakes up at 05:00, gets ready and drives for 20km to Burbank airport.
He gets on a commuter plane to reach Oakland (570km away).
After the 90-minute flight, he drives 32km to reach his San Francisco office by 08:30.
He leaves work at 17:00, drives to Oakland airport for his return flight at 19:15, and reaches home after 21:00.
Access to unlimited flights!
At $2,300 (about Rs. 1,50,000) per month, Badinski gets access to unlimited flights on the single-engine turboprop commuter plane. Also, he can bypass the airports' main terminals and regular security procedures. He can directly proceed to the plane after parking his car.
Love World news?
Stay updated with the latest happenings.
Yes, notify Me
The long commute poses many challenges
While the long commute comes with its own set of issues, Badinski also faces additional challenges, including climate discrepancies; while it is sunny in Los Angeles, San Francisco is cooler.
He also gets stuck in heavy traffic between Oakland and San Francisco.
As his flight has a significant carbon footprint, Badinski uses an eco-friendly, hybrid car to get to work.
Takes advantage of the aerial commute
Badinski uses his time on the eight-seat plane to network with like-minded aerial commuters, sometimes including venture capitalists and start-up founders. He also utilizes that time to do some work that he can't get done during the day.
I am always excited to start the day: Badinski
Badinski justifies the six-hour commute as "having the ability to have all the things" he wants.
He wants face time with his company and also needs to be with his family.
He adds that he, unfortunately, can't shift his family to San Francisco or move his company to Los Angeles.
So, he has to ensure that he can make it work.
The number of super-commuters on the rise
In 2012, researchers at New York University's Rudin Center for Transportation coined a term called "super-commuters".
According to them, those who commute for more than 180 miles (nearly 290km) to and from work are super-commuters.
While some take a train, others may even choose to hop a plane.
In the US, super-commuters reportedly account for 3-10% of the workforce.