No room for negotiations, India must withdraw: Chinese media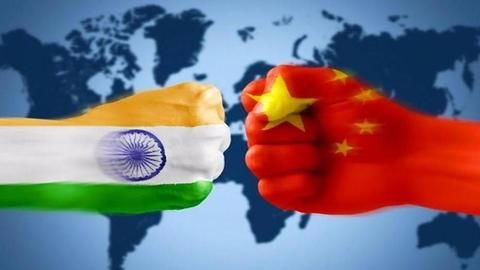 Continuing its tirade against India amid the ongoing Sikkim standoff, state-owned Xinhua news agency asserted that there was no room for negotiations with India and that the only solution was for Indian troops to withdraw from Doklam.
The commentary further warned against worsening of the situation and the possibility of India suffering embarrassment if it refuses to do so.
Let's see what China's thinking!
In context
How Chinese media views the Sikkim standoff?
Context
What context is this happening in?
Indian and Chinese troops have been engaged in month-long tense stand-off in the Doklam region located in the Sikkim-Bhutan-Tibet tri-junction, with both sides accusing each other of transgressing into each others' territory.
China has been insisting that withdrawal of Indian troops is a pre-condition for negotiations.
Chinese media has also taken a sharp tone with India, asking India to remember 1962 among other things.
Does Chinese media reflect the government's opinions?
Media is under strict government control in China. Xinhua is affiliated to its state Council. Further, People's Daily is regarded the Communist Party's mouthpiece and is believed to reflect the interests of the government and the Chinese Communist Party.
Love World news?
Stay updated with the latest happenings.
Notify Me
China's stance
Only withdrawal and 'no room for negotiations'
While China had so far stated withdrawal of Indian troops as a pre-condition to beginning negotiations, the Xinhua commentary stated, "China has made it clear that there is no room for negotiations on this incident, and India must withdraw its border-crossing troops from Doklam."
Warning India that it would face embarrassment otherwise, it further added that "the borderline is the bottom line for China".
Ladakh
China drags Ladakh in
While China has rarely gotten itself involved in the Kashmir issue in the past, it recently offered to mediate the Indo-Pak dispute over Kashmir.
Referring to Ladakh as a disputed area between China, Pakistan and India, the commentary stated that the Sikkim stand-off is dissimilar to the earlier stand-offs which occurred near Ladakh in 2013 and 2014 'where diplomacy led to a well-arranged end'.
Accusations
China calls India a liar
The commentary noted that India "lied" when it conveyed that it sent troops to Doklam to help Bhutan, while Bhutan had not asked New Delhi for help.
"India claimed encroachment of its territory by China before saying it sent troops to 'protect' its 'ally' Bhutan, a sovereign state which has apparently made no such an invitation for the sake of that area," it noted.
Conclusion
On a positive note , peace is most precious
The commentary noted that China values Indian Foreign Secretary Jaishankar's recent remarks suggesting that India and China should not let differences become disputes, pointing to a Chinese adage stating that, 'peace is most precious'.
It further highlighted China's desire for peace at the border and willingness to look towards diplomacy, given 'Indian trespassers withdraw unconditionally.'