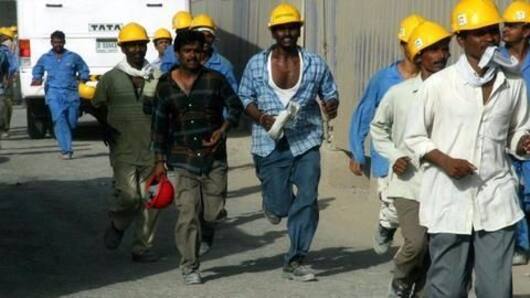 Indian immigration to Gulf dips, so do remittances
The number of Indian workers immigrating to the Gulf Cooperation Council (GCC) has declined to 507,296 in 2016 from 775,845 in 2014.
Remittances from these countries have marginally declined from $70 billion in 2014-15 to $66 billion in 2015-16.
Declining oil prices have caused GCC economies to slow down impacting the migration of Indians and subsequent remittances.
Regional instability by ISIS has also contributed.
Indian immigration to Saudi Arabia witnesses massive drop
Credits:
Indians immigrating to Saudi Arabia have witnessed a near 50% drop from 329,882 in 2014 to 165,356 in 2016.
This is attributed to low oil prices and what the Indian government calls the country's 'Saudiisation' policy, which prioritizes employment of Saudi nationals over foreigners.
The kingdom is home to three million Indians.
Saudi tax on Indian dependent could dissuade immigration
Saudi Arabia has imposed a monthly SR 100 (Rs. 1,700) dependent tax on each family member of foreigners.
This will double to SR 200 in 2018, SR 300 in 2019 and SR 400 in 2020.
For now, the dependent tax hasn't shown any noticeable impact on Indians in Saudi Arabia.
The Indian Ministry of External Affairs has raised the issue with its Saudi counterparts.
Love World news?
Stay updated with the latest happenings.
Yes, notify me
News of lay-offs, mistreatment of workers lead to slowdown
Indian immigrants have been dissuaded from traveling to the GCC following news of lay-offs.
A construction company in Bahrain had earlier laid off around 700 Indian workers but didn't repatriate them due to a financial crisis.
Incidents of mistreatment of Indian workers by GCC employers may have exacerbated the slowdown.