World
JeM chief spews venom against Modi, tries inciting Indian Muslims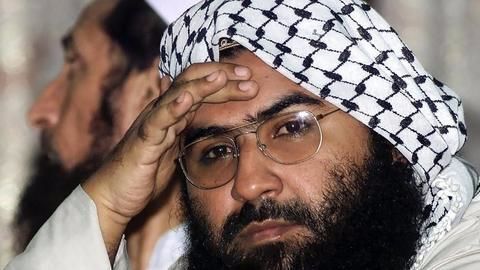 Pakistan-based terror group Jaish-e-Mohammed's (JeM) chief Maulana Masood Azhar has attempted to incite Indian Muslims in a column published in the outfit's journal Al-Qalam.
He also spewed hatred against PM Narendra Modi and UP Chief Minister Yogi Adityanath.
The JeM is responsible for terrorist attacks on military and civilian in Pathankot, Nagrota, Gurdaspur, Akhnoor and others.
In context:
JeM chief Maulana Masood Azhar threatens India
21 Dec 2016

Pathankot Attack: NIA charge-sheet against JeM Chief Masood Azhar
In December 2016, the National Investigation Agency filed a charge-sheet against the Jaish-e-Mohammed (JeM) Chief Masood Azhar for orchestrating the Pathankot Airbase Terror Attack in January 2016.
The charge-sheet in the case provided evidence on the attack at the Indian Air Force base at Pathankot.
It also linked JeM with blasts in Samba, Tangdhar, Kathua, and Rajbagh in Jammu & Kashmir in 2015.
20 Jul 2017

US designates Pakistan as a terrorist 'safe haven'
On July 20, in possibly a sign of Trump administration's toughening stance against terrorism, the US listed Pakistan as one of the countries providing safe havens to terrorists in its annual "Country Report on Terrorism."
It said terrorist groups including Jaish-e-Mohammed and Lashkar-e-Taiba, continued to raise funds, train and operate from Pakistan in 2016 and further discussed India's strong domestic crackdown on terror.
Love World news?


Stay updated with the latest happenings.
25 Jul 2017

JeM chief spews venom against Modi, tries inciting Indian Muslims
Details

Masood cites cow vigilante killings, says situation deteriorating in India
Masood mentioned the incidents of lynching of Muslims by cow protection vigilantes.
"The situation in India is deteriorating, unbearable and loathsome," he wrote. He cited the lynching of a Muslim youth in Haryana in a Mathura-bound train.
"A leader issued the statement that they would shed blood of thousands of men if they were to protect the cow."
Azhar warns Modi and Yogi

Azhar warned Modi and Yogi not to target Muslims and vowed to make them "responsible" for their oppression. "If only one real Muslim ruler comes in Pakistan, you can teach a lesson in three to four days" he added.