World
Beirut blasts: Entire terror network busted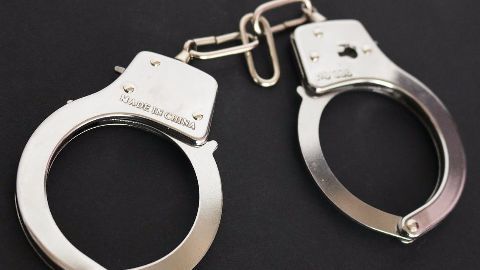 According to interior minister of Lebanon, the entire network behind the suicide bombings in Beirut was arrested within 48 hours.
The police had arrested five Syrians and a Palestinian over suspected involvement in the attack.
The minister said that attackers had a major plan to bomb Lebanese targets.
He said that political stability was the only means to secure the country.
In context:
Beirut blasts: ISIS strikes again
12 Nov 2015

44 killed, 200 wounded in Beirut blasts
Two suicide bombers blew themselves in a residential area of the Lebanese capital, Beirut.
The Sunni jihadist group Islamic State (IS) claimed responsibility for the attack.
About 44 people were killed and over 200 wounded in the blast.
The first bomber detonated his explosive vest outside a Shia mosque while the other detonated his vest outside a nearby bakery.
The third bomber

The body of a third suicide bomber was found nearby the blast area. He was most likely killed by the second blast before he could detonate his own explosive vest.
Love World news?


Stay updated with the latest happenings.
13 Nov 2015

Beirut blasts: Emergency meeting by Lebanon PM
Lebanese Prime Minister Tammam Salam held an emergency meeting with his security cabinet and military chiefs following the blasts.
Defence Minister Samir Moqbel said the armed forces were on high alert across the country, and trying their best to maintain peace and calm.
He said that it was not possible for security forces to control such attacks all the time.
13 Nov 2015

Response by leaders
Lebanon PM Salam condemned the attacks as unjustifiable and called on Lebanon's rival factions to unite against plans to create strife.
Lebanon's Hezbollah leader Sayyed Hassan Nasrallah said that it was a satanic terrorist attack carried out by traitors.
He also warned his followers of a backlash against ordinary Syrians and Palestinians in the aftermath of the bombings.
13 Nov 2015

World leaders condemn Beirut blasts
Condemning the attacks, French President Francois Hollande called the attacks despicable.
Describing them as horrific terrorist attacks, the White House vowed to support the institutions of the Lebanese state.
UN General Secretary Ban Ki-moon requested Lebanon to not allow the despicable act to destroy the relative calm that had prevailed in the country for the past one year.
16 Nov 2015

Beirut blasts: Entire terror network busted
Love World news?


Stay updated with the latest happenings.
Recent attacks on Beirut

On 27 June 2014, a suicide bomber wounded 11 people in a Beirut hotel. On 19 February 2014, two suicide bombings killed 8 people and wounded 128 others near the Iranian cultural center in Beirut.