World
Putin responds to US sanctions, expels 755 American diplomatic staff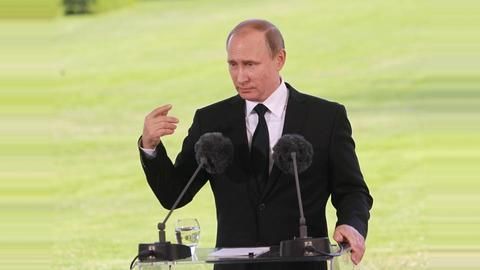 Russian President Vladimir Putin has retaliated against fresh US sanctions by announcing that 755 staff members must quit US diplomatic missions by September 1.
This brings the total US staff in Russia to 455, same as Moscow's complement in America.
The BBC's Laura Bicker said this is believed to be the largest expulsion of diplomats from any country in modern history.
In context:
Russia's response to US sanctions
26 Jul 2017

Defying Trump, US House votes to intensify sanctions on Russia
On July 26, the US House of Representatives voted overwhelmingly to impose fresh sanctions on Russia over Moscow's alleged interference in the 2016 US presidential election.
The bill likely dims US President Donald Trump's hopes of improving US-Russia relations.
The White House said it's reviewing the bill.
28 Jul 2017

US Senate passes Russia sanctions bill, will Trump veto it?
On July 28, the US Senate voted overwhelmingly in favor of constituting new sanctions on Russia, Iran and North Korea.
The 98-2 Senate vote came despite objections by the White House. Earlier this week, the House of Representatives approved the bill.
It will now be sent to President Trump to be signed into law. Trump, who seeks closer US-Russia ties, may veto the vote.
Love World news?


Stay updated with the latest happenings.
31 Jul 2017

Putin responds to US sanctions, expels 755 American diplomatic staff
Putin's statement

Holiday properties and warehouse used by US diplomats seized
Putin said: "More than 1,000 people were working and are still working" at the US embassy and consulates in Russia.
He said, "755 people must stop their activities in Russia."
The move would impact staff at the US embassy in Moscow and the consulates at Ekaterinburg, Vladivostok and St Petersburg.
Holiday properties and a warehouse use by American diplomats are also being seized.
Putin rules out further action against US for now

Putin said he's considering further action but is "against it as of today." He said Russia waited long enough hoping relations with America would improve. "But it seems that even if the situation is changing, it's not for anytime soon," he said.
Explained

Why were the US sanctions imposed on Russia?
The fresh US sanctions were in response to Russia's 2014 annexation of Crimea and its alleged interference in last year's US presidential election.
The Obama administration had expelled 35 Russian diplomats and seized two Russian diplomatic compounds in December 2016 after Russia allegedly hacked the US Democratic Party and presidential nominee Hillary Clinton's campaign.