Trump gives up, signs Russia sanctions bill, mulls China sanctions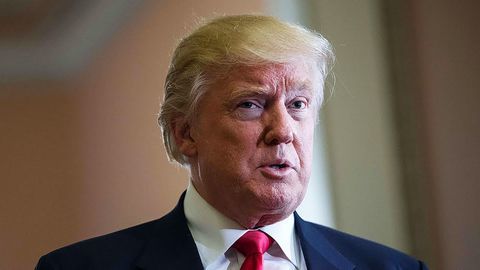 President Trump has signed the legislation imposing sanctions on Russia, Iran and North Korea for violating international norms.
The legislation, backed overwhelmingly by both Republicans and Democrats in both houses of the US Congress, intends to target Russia for the alleged interference in the 2016 US Presidential elections and the 2014 Crimean annexation among other things.
Is the Congress keeping Trump in check?
In context
Trump signs Russia sanctions bill
Context
Why have sanctions been imposed on these countries?
Sanctions have been imposed on Russia for the 2014 annexation of the Ukrainian territory of Crimea and its alleged interference with the 2016 US elections through colluding with the Trump campaign and orchestrating a cyber-attack diminishing Hilary Clinton's winning prospects.
Iran and North Korea have been targeted for their ballistic missile programs and alleged human rights violations perpetrated by the Iranian Revolutionary Guard Corps.
Objections
Trump raises objections to the bill
Secretary of State, Rex Tillerson had earlier stated that he and the President didn't believe the sanctions would help their diplomatic efforts with Russia.
Trump had termed the bill significantly flawed and slammed the legislation for including 'unconstitutional provisions'.
Particularly irksome for him was the provision which mandates for 30-day notice to be provided to the Congress for reconsidering the President's bid for rollback.
Love World news?
Stay updated with the latest happenings.
Notify Me
Russia responds
Prior to the passing of the bill in House of Representatives, Russian Deputy-Foreign Minister Sergei Ryabkov said it would place a "dangerous mine under the foundation of US-Russia ties". He further added that Russophobe hysteria shows no signs of dying down in the US.
Meanwhile, is Trump losing his patience with China?
...they do NOTHING for us with North Korea, just talk. We will no longer allow this to continue. China could easily solve this problem!

— Donald J. Trump (@realDonaldTrump) July 29, 2017
Analysis
What now?
Recent instances including Trump's failure to push through Obamacare repeal and overwhelming Congressional majority forcing him to sign the sanctions bill, is indicative that the Congress is pulling hard on the President's reins.
However, calls for sanctions on Russia is unlikely to significantly derail US-Russia bilateral relations. Given the importance of China in handling North Korea, US-China relations are likely to remain unaffected too.