World
#SikkimStandoff: India rejects China's claims of troop withdrawal at Doklam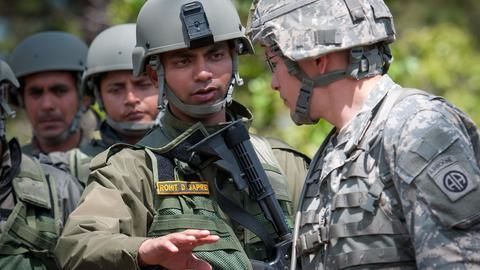 Indian government sources have rejected China's claims of a decrease in the number of Indian troops engaged in the standoff at Doklam, near Sikkim.
A 15-page statement by the Chinese foreign ministry said Indian troop numbers at Doklam had dropped to 40 in July-end, compared to a peak of 400.
India said around 350 troops have been deployed there over the past six weeks.
In context:
China releases statement on Sikkim standoff
30 Jun 2017

India says China's Doklam road construction has serious security implications
On June 30, the Indian Ministry of External Affairs released a statement expressing concern against the Chinese military's decision to build a road in the India-Bhutan-Tibet tri-junction at Doklam.
India says it would "represent a significant change of status quo with serious security implications."
India believes the construction changes the status-quo and a 2012 agreement reached between both sides.
03 Aug 2017

#SikkimStandoff: India rejects China's claims of troop withdrawal at Doklam
Love World news?


Stay updated with the latest happenings.
Details

China wants to sign new Sikkim boundary convention with India
The Chinese statement proposed that Beijing and New Delhi should sign a new border convention, replacing the one signed between India's former British rulers and China in 1890 that demarcated the Sikkim boundary.
It said that a new convention would "in no way" alter the nature of the boundary in the region.
Claim

China claims it gave India advanced notice in Doklam construction
The Chinese statement contends that India received advanced notice of its road construction in Doklam.
It also accused India of being a "third party" interfering in the China-Bhutan border issue as Doklam doesn't lie in Indian territory.
It said India has no right to interfere or make "territorial claims on Bhutan's behalf."
China has also accused Indian troops of "trespassing" into its territory.
India responds to latest Chinese statement

"India considers that peace and tranquillity in the India-China border areas is an important prerequisite for smooth development of our bilateral relations with China," said the spokesperson of the Indian Ministry of External Affairs.