Barcelona terrorist attack: Van rams into a crowd killing 13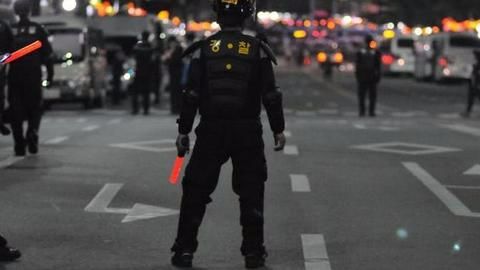 In a shocking instance of terror, a van drove into the crowd at Barcelona's popular La Ramblas area, killing 13 and injuring many others.
Spanish PM Mariano Rajoy has termed it a 'jihadist attack'.
While two suspects were arrested, the driver of the van, who mercilessly tread through the pedestrian sidewalk is reported to have fled on foot.
Read about latest updates here.
In context
Barcelona attack: What happened?
Background
Sixth vehicle attack in Europe this year
On 9 August, a BMW rammed into a group of soldiers in Paris, injuring six.
Vehicle attacks occurred thrice in London claiming a total of 13 lives.
Uzbek Rakhmat Akilov who drove a lorry into a department store in Stockholm on 7 April killed four.
The Christmas market attacks in Berlin and the Nice attack in 2016 also involved vehicles ramming into crowds.
About
What happened on the ground?
The vehicle sped on the pedestrian sidewalk mowing down people on its way, while several others rushed out of its way for cover.
According to witnesses, the van swayed from side to side while driving down the boulevard, deliberately targeting people.
Officials further point to the possibility that an explosion in Alcanar, a town close to Barcelona was linked to the Las Ramblas attack.
Love World news?
Stay updated with the latest happenings.
Notify Me
Police acts promptly
Speaking to Sky News, Aamer Anwar one of the people present notes "Police were very, very quickly there, police officers with guns, batons, everywhere. Then the whole street started getting pushed back. Police officers who got there just started screaming at people to move back."
Terrorism
Was this an act of terror?
Driss Obaukir, a Moroccan national in his 20s has been identified as a primary suspect, based on the personal identification documents used to rent the van.
However, newer reports indicate that his identity may have been stolen.
Amaq, the IS news agency further reported that the attack was carried out by 'Islamic State soldiers', although no further evidence was provided to support this.
We stand with Spain: World leaders
While President Rajoy who declared three days of national mourning noted that 'terrorism is defeated by unity', French President Emmanuel Macron said, 'we remain united and determined'. UK Prime Minister Theresa May also stated that UK stands with Spain against terrorism.
Analysis
Vehicle attacks: Growing increasingly popular with terrorists
Vehicles have emerged as a popular choice among terrorists, as seen in over five attacks that have occurred in Europe in 2017.
Moreover, it incurs far lesser costs compared to imparting battle training to an attacker.
To put things in perspective, a vehicle attack targeting civilians can come from anywhere, at anytime and there's limits to what we can do to avoid it.