Hyundai Prophecy Concept EV unveiled: Futuristic design, next-gen autonomous driving
Hyundai Prophecy Concept EV unveiled: Futuristic design, next-gen autonomous driving
Mar 03, 2020, 09:51 pm
2 min read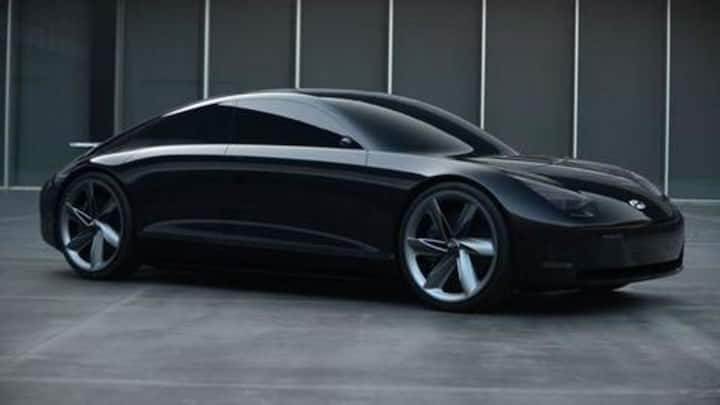 Hyundai has unveiled its all-electric concept car, the Prophecy, showcasing the next stage in the development of its design philosophy and autonomous driving. The futuristic-looking sedan headlines the 'Sensuous Sportiness' design language of the company while promising top-notch aerodynamics to attain the 'Ultimate Automotive Form', as per the South Korean automaker. Here are more details.
Hyundai Prophecy Concept EV: Design
The Prophecy features a sporty silhouette with a minimalistic facade that houses pixel headlights and seamlessly merges with the mid-section. The windscreen melts into the roof that tapers to meet the boat-tail rear section, which also has pixel lights. The fluid design also provides excellent aerodynamics, with propeller-like alloys drawn in air and allowing it to flow down the side of the body.
The Prophecy gets Rolls Royce-like Coach doors that open to make way for four passengers. The dashboard is nothing like we have seen before, with the front section entirely covered with screens. There is no steering wheel either, just a couple of joysticks that will be used to navigate the car (if not in the autonomous mode) and perform other functions.
No specifications have been revealed by the company
Since the Prophecy is just a concept model as of now, Hyundai has not shared any details about its performance. Sure, it will be powered by electric motors and batteries but we don't have details about its range, top speed, and power figures.
Hyundai aims to forge emotional connection between humans and automobiles
"We have brought to life yet another icon that establishes a new standard for the EV segment as well as pushing Hyundai's design vision to even broader horizons," said Hyundai. "A part of that expansion is what we call Optimistic Futurism, a design concept embodied by 'Prophecy'. With Optimistic Futurism, our aim is to forge an emotional connection between humans and automobiles."