Total Chaknachoor: 'Motichoor Chaknachoor' director Debamitra Biswal disowns the film
Total Chaknachoor: 'Motichoor Chaknachoor' director Debamitra Biswal disowns the film
Nov 20, 2019, 04:57 pm
3 min read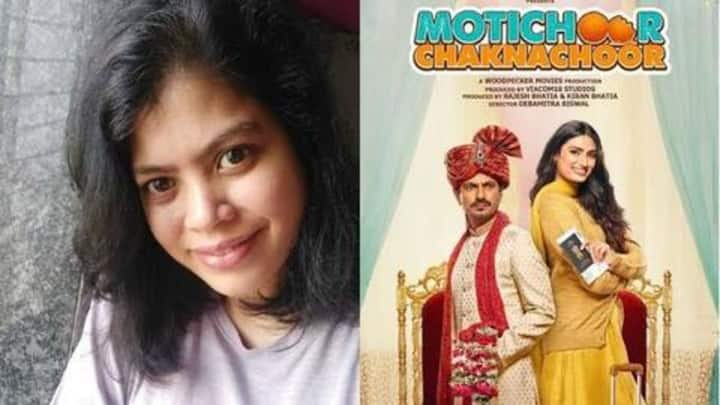 Nawazuddin Siddiqui and Athiya Shetty-starrer Motichoor Chaknachoor, which hit the theaters on November 15, clearly fell short of expectations. The film opened to poor critic reviews and was even dismissed by the audiences. But more tragically, now, the director of the movie, Debamitra Biswal has disowned her own product, which she believes failed because of "silly ego fights." Here's more on what she said.
In a lengthy Facebook post, Debamitra expressed her disappointment
In a lengthy post that she put on her Facebook account, which has now been apparently deactivated, Debamitra admitted that making Motichoor was tough, but not fruitful. "Now that the film is finally releasing, I would like to tell everyone that this has been the most toughest journey in my life ever. But unfortunately not the best one at the end," she wrote.
"I wish important decision makers could understand.."
Notably, Debamitra and the producers of the film had been at loggerheads for a long time. Hinting at her disappointment over the movie's post-production, she said, "Everyone who has worked in a film knows very well how important an edit is for a film. Sticking shots together does not make a film. I wish important decision makers of the film could have understood this."
Watch the film at your own risk, Debamitra warned
Thanking several people associated with the movie, including dialog-writer Bhupendra Singh "Meghvrat", lead duo Nawaz and Athiya, among others, Debamitra penned, "Sorry I could not save the film." Lastly, while taking a dig at the movie's title, she wrote, "I will not be responsible for your bheja fry. An experience definitely as sweet as Motichoor, but an outcome is total Chaknachoor."
Previously, Debamitra was accused of fraudulently selling Motichoor's rights
To note, the producers had previously accused Debamitra of fraudulently selling off Motichoor's movie rights to a film distributor for Rs. 32 lakh in Bihar. Separately, she had also filed a case and demanded a ban on the release of the movie's trailer, for payment dues. She had further requested that her name be removed from the film's credits.
'Motichoor' received poor reviews and below-par box office collections
Motichoor Chaknachoor, a romantic comedy, also starring Vibha Chibber, Navni Parihar, Vivek Mishra, Karuna Pandey, and Sanjeev Vats, showcases the story of two strangers, Pushpinder Tyagi (Nawazuddin) and Annie (Athiya), both of whom are desperately trying to get married. However, the film received harrowing reviews from the critics as well as the audiences. Further, the movie is also going slow at the box office.