GoT's Emilia Clarke rejected '50 Shades of Grey'. Here's why
GoT's Emilia Clarke rejected '50 Shades of Grey'. Here's why
Written by
Siddhant Pandey
May 27, 2019, 08:47 pm
3 min read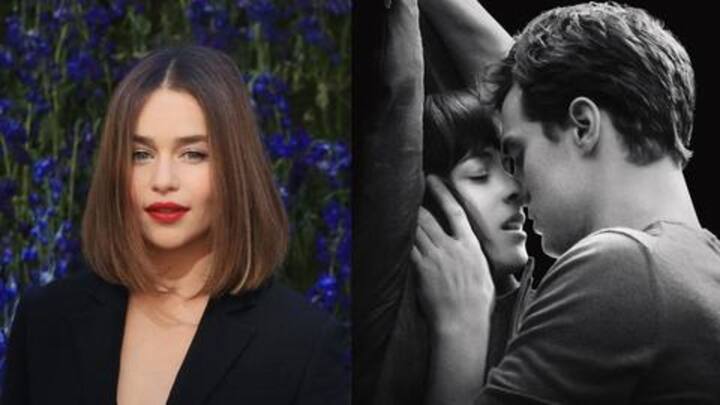 Game of Thrones star Emilia Clarke shot to global stardom after the show's premiere in 2011. Clarke was just another 20-something actor we didn't know about, but after GoT, everyone wanted to sign her. But did you know, Clarke (32) was offered the role in 2015 film 50 Shades of Grey? Not just that, she actually rejected the role. Here's the reason.
Clarke did not want to be pigeonholed
While sitting among Christine Baranski, Michelle Williams, Niecy Nash, Patricia Arquette, and Danai Gurira for The Hollywood Reporter's Drama Actress roundtable, Clarke revealed that she turned down the role of Anastasia Steele in 50 Shades of Grey to avoid being pigeonholed.
'Didn't do GoT for guys to check out my tits'
Clarke said, "The last time that I was naked on camera on [Game of Thrones] was a long time ago, and yet it's the only question that I get asked because I'm a woman." "It's annoying as hell and I'm sick and tired of it because I did it for the character- I didn't do it so some guy could check out my tits."
'Did a minimal nudity and I'm pigeonholed for life'
"I did a minimal amount and I'm pigeonholed for life, so, me saying yes to that, where the entire thing is about sensuality and sex and being naked, I was just like, "No way am I going to voluntarily walk into that situation and then never be able to look someone in the eye and say, 'No, you can't keep asking me this question.'"
Clarke's nude scenes in 'GoT' reduced as show progressed
Clarke did a couple of nude scenes in GoT, concentrated towards the show's beginning. GoT is known for its depiction of nudity and violence (both were toned down as the series progressed) as aiming for mature audiences helped set it apart from other fantasy shows.
The role eventually went to Dakota Johnson
After Clarke's refusal, the role of Anastasia Steele was eventually played by Dakota Johnson. Directed by Sam Taylor-Johnson, 50 Shades of Grey is based on EL James' 2011 eponymous erotic romantic drama novel. The film depicts the story of Steele, a young college graduate, and her sadomasochistic relationship with an abusive business magnate, Christian Grey, played by Jamie Dornan.
Clarke says she also doesn't want to do sequels
Another thing that Clarke said she wouldn't like to do, if she's being picky, is something that would have a sequel. "Something that could have, like, 'And then two and then three and then four.' I'd like to not do one of those for a minute," she said, breaking into laughter. After Clarke's decade-long portrayal of Daenerys Targaryen, we can't say we blame her.
Here's what Clarke is working on next
Clarke will next be seen in a British romantic comedy Last Christmas, alongside Crazy Rich Asians star Henry Golding. The film, which will release later this year, will be directed by Paul Feig, and written by Bryony Kimmings and Emma Thompson. Clarke will also feature in Above Suspicion, a film based on the real story of an FBI agent convicted of murder.