#AeroIndia: 300 cars gutted in fire, cigarette could be cause
#AeroIndia: 300 cars gutted in fire, cigarette could be cause
Feb 23, 2019, 02:20 pm
2 min read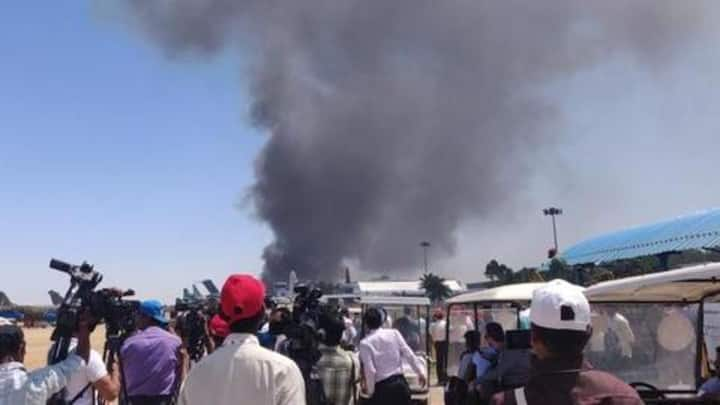 Nearly 300 cars were gutted after the parking spot at Yelahanka air base near Bengaluru, where Aero India 2019 is underway, caught a massive fire. Images and videos which found their way to social media showed black smoke emanating from the parking area. According to NDTV, the fire may have started after a live cigarette was disposed on the grass of the open field.
Eyewitness claims cars were blasting one after another
Fire engines were sent to the area to douse the fire. The blaze has been contained and no injuries have been reported. An eyewitness named Rahil said the fire started at the far end of the parking lot. While firefighters managed to control the blaze in that area, it spread to other cars. "There were cars blasting one after the another," Rahil told TNM.
"The cars were closely parked so the fire spread within seconds... there were glass shards everywhere, tyres were blasting. I was scared so I ran out and I saw one fire engine come inside," added Rahil.
Video shows what happened
Firefighter was hurt but resumed duty after treatment
A firefighter named Rakesh was one of the first ones to reach the spot. While he tried to douse the fire, he suffered injuries due to glass shards. Rakesh received treatment soon and returned to his duty. Senior police officer MN Reddi said the fire spread quickly due to heavy winds. Most of the cars belonged to people who arrived to watch the show.
Planes put on standby due to fire
Reportedly, no planes have taken off from the airbase in the last hour. The aircraft will fly once the smoke subsides, claimed reports. The event which started on Wednesday will conclude on Sunday.