Who is the female photojournalist featured in Google Doodle today?
Who is the female photojournalist featured in Google Doodle today?
Dec 09, 2017, 05:46 pm
3 min read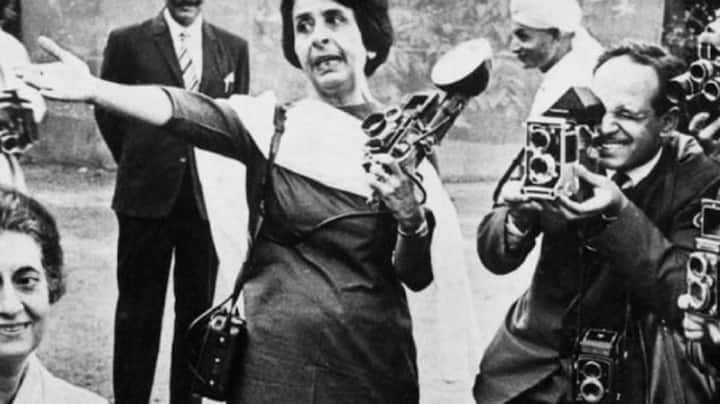 We have all enjoyed with admiration, the photographs of India's first tri-color being hoisted or Lord Mountbatten's final salute while leaving India. We have India's first woman photojournalist Homai Vyarawalla to thank for these iconic photos. On her 104th birth anniversary, she got featured in Google Doodle. How did Homai become one of the key chroniclers of India's post-independence era? Here's her inspiring story!
Though from a traditional Parsi family, Homai followed her instincts
In 1913, Homai was born into a traditional Parsi family in Navsari, Gujarat. But, her family was supportive of her decisions. In 1932, the family moved to Bombay. She studied at the JJ School of Art and it is here that she met her husband, also a photographer, Maneckshaw Vyarawalla. He taught her the tricks of the camera, helping her to refine her technique.
A photographer, Homai was a woman in a man's world
Homai had a natural flair for photography. Her early work focused on portraits of everyday urban life and modern young women. These were initially published in the Illustrated Weekly and Bombay Chronicle under Maneckshaw's name as she was a woman in a largely male-dominated world. Apart from the gender barrier, Homai also faced fierce competition from western journalists like Henri Cartier-Bresson and Margaret Bourke-White.
Working for the British Information service, Homai captured history
In 1942, when India was experiencing political churning, Homai shifted to Delhi. For the next 50 years, she captured intimate political moments. From the rituals of independence to laying the foundation stone of dams and steel plants, Homai was there to capture the iconic scenes. She also photographed the visits of leaders like Iran's Mohammed Reza Shah and Vietnam's Ho Chi Minh, among others.
Homai was known for her unique working style
Homai bicycled to events and carried her own bulky equipment. She was also known for her grit. In 1956, she travelled alone to Nathu La Pass, stayed the night in a dhaba full of male correspondents to capture the young Dalai Lama as he entered India. This photo was featured in Time Life magazine. Homai loved black-and-white photographs, and she processed her own images.
No other leader fascinated her like Pandit Nehru
It is said that no other leader charmed Homai's photographic eye like Pandit Nehru. Nehru also trusted her and allowed her into his private space. She captured him lighting a cigarette, playing with children and having informal moments with daughter, Indira and sister Vijaylakshmi Pandit.
In 1970s, Homai quit photography but her work lives on!
Following her husband's death in 1969, Homai quit photography and moved to Vadodara, Gujarat. Her work was published under the pseudonym 'Dalda 13', symbolizing her birth year, her car's registration number (DLD 13) and her age when she met her husband. Homai, expired in 2012, and was awarded Padma Vibhushan in 2011. After so many decades, her black-and-white legacy will continue to guide historians.