IAF's fleet becomes stronger as eight Rafale jets join
IAF's fleet becomes stronger as eight Rafale jets join
Nov 06, 2020, 10:04 pm
2 min read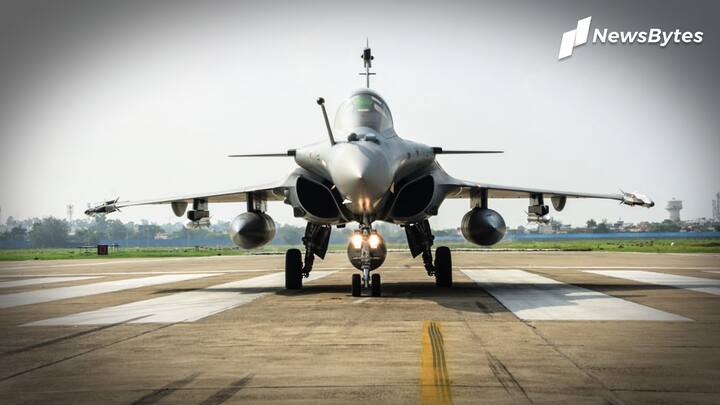 The Indian Air Force (IAF) has become stronger than ever, as its fleet now has eight Rafale jets. After the first batch of five jets arrived in July, the second batch of three landed in India on Wednesday. These three jets flew from France non-stop, covering a distance of 7,000-odd km without taking a break. All 36 Rafale jets will be inducted by 2023.
The latest batch of jets arrived in Jamnagar
The three jets arrived at the Jamnagar airbase in Gujarat; the first batch had arrived in Ambala. "Second batch of IAF #Rafale aircraft arrived in India at 8:14 pm on 04 Nov 20 after flying non-stop from France, (sic)" IAF tweeted on Wednesday evening. "They covered a distance of over 3700 nautical miles with three in-flight refuelings," IAF had informed.
India and France inked a deal for 36 Rafale jets
To recall, India has signed a deal with France for three dozen Rafale jets for Rs. 59,000cr. The deal was signed in 2016 and in October last year, Defense Minister Rajnath Singh flew down to France to formally receive the jet. While IAF rejoiced after the deal was inked, a political row was also sparked with Congress levying corruption charges on the ruling BJP.
These jets are tailored for IAF
The fourth-generation flying machines are tailored for IAF, which hasn't welcomed a single foreign jet in 23 years. The jets have high-tech sensors, advanced weaponry, superior detection radar, and impressive payload-carrying abilities. These jets would allow fighter pilots to attack ground and aerial targets from stand-off ranges. Moreover, they are also armed with SCALP air-to-ground, MICA multi-mission air-to-air, and METEOR beyond-visual-range air-to-air missiles.
Hammer weapon added to Rafales's arsenal
While Rafale jets already have an edge, France has now agreed to install air-to-surface Hammer, the all-weather smart weapon into the jets. A "fire and forget" weapon, the Hammer has a strike range of 20-70 kilometer and can work even without GPS availability. It is especially made to destroy bunkers or hardened shelters. It also has high jamming resistance.
Deal for Hammer weapon was signed last month
Reports said the deal between France and India was signed just last month. "The emergency procurement of the munitions was inked last month with France, which is expediting the deliveries," a source told TOI. Meanwhile, as per the delivery schedule, three to four Rafale jets will arrive in India at an interval of every two to three months.