Inspirational! Jawan martyred in 2015, his wife now joins Army
Inspirational! Jawan martyred in 2015, his wife now joins Army
Mar 11, 2019, 03:48 pm
2 min read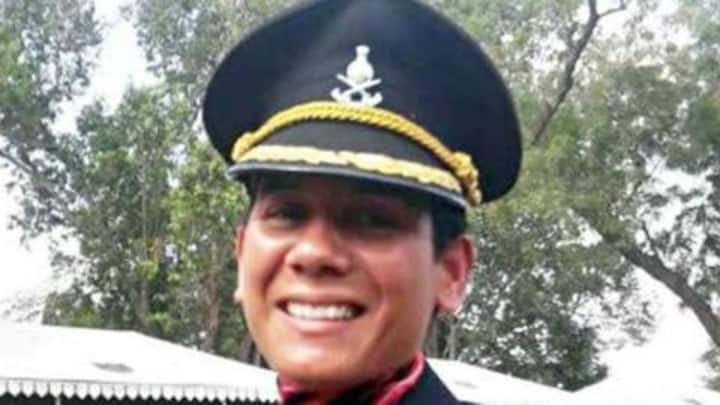 Sangeeta Malla, the wife of a martyred trooper, joined the Indian Army as Lieutenant on Saturday. Her husband, Sishar Malla, lost his life in an encounter with terrorists on September 2, 2015, in Baramulla, Jammu and Kashmir. She graduated from the Officer's Training Academy (OTA) in Chennai this weekend. Notably, Sangeeta was earlier working as a teacher. Here is her inspirational story.
Sishar was martyred in an encounter with Lashkar-e-Islam terrorists
Sishar of Gorkha Rifles was killed in an 8-hour long gunfight against the Lashkar-e-Islam (LeI) terrorists. LeI was founded in 2004 by Haji Namdar and Mufti Shakir. On September 2, 2015, a search party, of which Sishar was a part, was fired upon by the terrorists. In the ensuing encounter, two army troopers, including Sishar, sustained injuries. He later died in a hospital.
Husband's death, mother-in-law, motivated Sangeeta to join Army
Sangeeta was a teacher when her husband died and probably in that shock, had a miscarriage later that year. She quit her job eventually to support her mother-in-law. As time went by, she took a decision to join the forces. According to her family, Sishar was the inspiration behind her decision to join the Army. However, her main push came in 2016.
Sangeeta's real push came when husband was given award posthumously
In 2016, Sangeeta attended an investiture ceremony (an oath-taking program) in Ranikhet, where her husband was also awarded Sena Medal posthumously. According to reports, it was then she realized that she wishes to join the Army, like her husband, and serve the country.
Sangeeta's mother-in-law asked her to prepare for banking job
Sushant Malla, Sangeeta's brother-in-law, said, "My mother supported her and encouraged her to study further and do a banking job." However, Sangeeta changed her mind after attending the investiture ceremony. "She worked hard and cleared the OTA examination," Sushant added. After going through the 49-week extensive and rigorous training at the OTA, she qualified as a Lieutenant in Short Service Commission.