30 Indian cities could face dramatic water risks by 2050
30 Indian cities could face dramatic water risks by 2050
Nov 04, 2020, 01:34 am
3 min read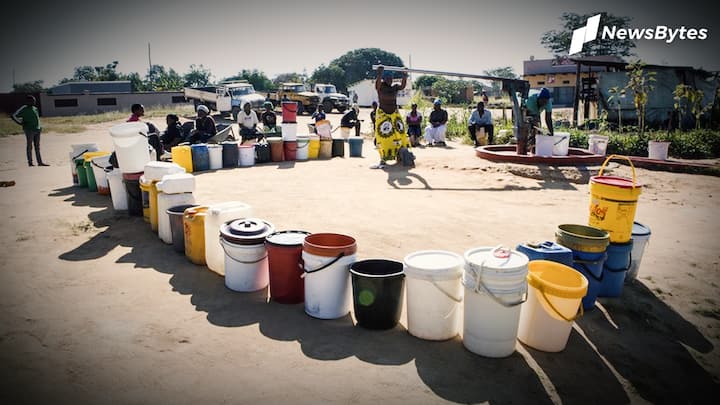 From people lining up in queues to get water for daily needs to flooding after rainfall, a number of Indian cities could face increased "water risks" by 2050, i.e., in thirty years from now, if corrective measures aren't taken immediately, World Wildlife Fund (WWF) said on Monday. 30 Indian cities, including Jaipur and Indore, could suffer soon, warned the body. Here are more details.
100 cities, nestling 350 million people, are in "red zone"
As per scenarios in WWF's Risk Filter analysis, 100 global cities could face water-related problems in the next three decades. These cities nestle at least 350 million people and hold importance for global and national economies. Of the cities listed by WWF, 50 are in China (Beijing included) and 30 in India. Other hotspots are in South Asia, Middle East, South America, and Africa.
Cities received a risk score; 30 Indian cities fared poorly
The other Indian cities that featured in the list are Delhi, Amritsar, Pune, Srinagar, Kolkata, Bengaluru, Mumbai, Kozhikode, and Vishakhapatnam. The analysis gave risk score, out of five, to cities — any score above three fell in the "high risk" category and more than four was labeled as "very high risk." Alarmingly, all 30 Indian cities scored at least three or more.
Usual suspects, like deforestation, impact water quality
Further, WWF's profile for India blamed problems like deforestation; soil erosion; overgrazing; desertification; air pollution from industrial effluents and vehicle emissions; and water pollution for the deteriorating water quality in India. Shashank Shekhar, assistant professor, department of geology, DU, told HT Indian cities are at high risk because there is no holistic planning. "Ecological factors are not properly considered during city planning," he said.
Expert said water catchments are disrupted due to urbanization
"The water catchments and flow lines change due to urbanization. There is a very fragile equilibrium that has to be maintained. This is particularly true for new cities that are coming up with little planning," Shekhar explained.
Future of India's environment lies in its cities: WWF official
Dr. Sejal Worah, program director, WWF India, said Indian cities hold the key to the future of the country's environment. "For cities to break away from the vicious loop of flooding and water scarcity, nature-based solutions like restoration of urban watersheds and wetlands could offer solutions. This is our chance to re-evolve and re-imagine what the future of the cities could be," she said.
Revival of wetland in Bengaluru was lauded by WWF
However, not all is lost. WWF cited the example of the revival of Bashettihalli wetland (Bengaluru) and the Sirpur lake (Indore), saying that more such initiatives should be planned. Notably, the list of 100 cities is topped by Egypt's Alexandria, followed by Mecca in Saudi Arabia, Tangshan (China), Saudi Arabia's Ad-Dammam, and Riyadh. WWF suggested connecting rivers to floodplains to avoid a "worst-case scenario."