Japan announces Rs 3.2L crore investment in India
Japan announces Rs 3.2L crore investment in India
Mar 20, 2022, 11:46 am
2 min read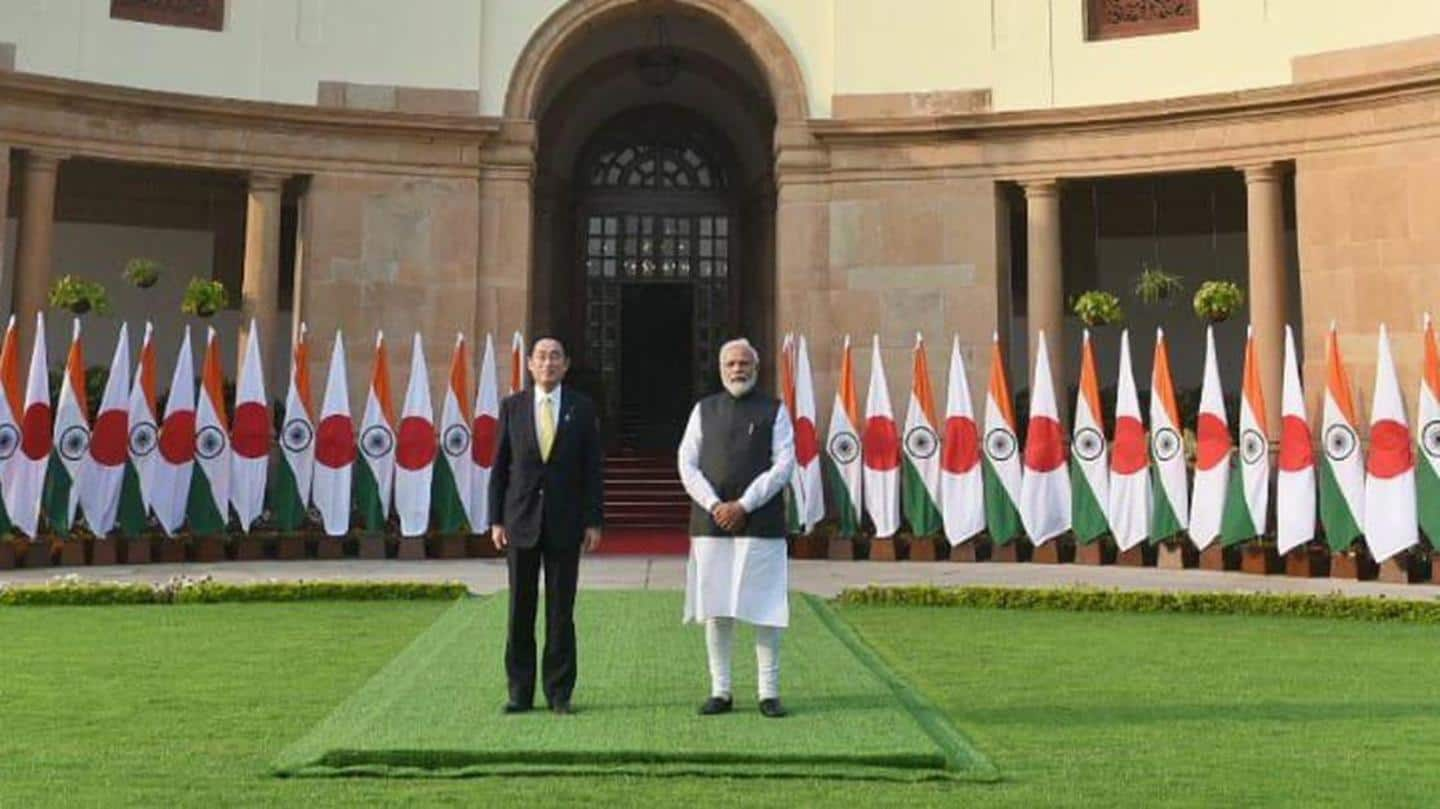 Japan will invest 5 trillion yen (Rs 3.2 lakh crore) in India during the next five years, Prime Minister Narendra Modi announced on Saturday. PM Modi made the announcement during a joint press conference in New Delhi with his Japanese counterpart, Fumio Kishida. Kishida is in India for the 14th India-Japan Annual Summit, which was held after two years.
Why does this story matter?
In recent years, the strategic partnership between India and Japan has thrived due to shared concerns about China's aggressive actions.
The two countries have increased the focus on strengthening supply chains as well as economic cooperation.
Both India and Japan are memebers of Quadrilateral Security Dialogue or Quad-- a strategic security bloc that also includes US and Australia
Japan is one of the largest investors in India: Modi
"India and Japan understand the importance of a secure, trusted, predictable, and stable energy supply. This is essential to achieve sustainable economic growth and to deal with climate change," Modi said on Saturday while emphasizing the deepening of the India-Japan partnership, encouraging peace, prosperity, and stability globally and especially in the Indo-Pacific region. "Japan is one of the largest investors in India," he added.
We've crossed investment target of 3.5 trillion yen: Modi
"I am happy that we have crossed the investment target of 3.5 trillion Yen set in 2014 and we have decided to increase our aspirations," Modi said. He was referring to former Japanese PM Shinzo Abe's announcement of Rs 2.22 lakh crore investment in India.
Japan has made significant contributions to flagship projects such as the Dedicated Freight Corridor and the Mumbai-Ahmedabad High-Speed Rail. "Good progress is being made on the Mumbai-Ahmedabad High-Speed Rail," Prime Minister Narendra Modi noted. "Both the countries are working on this with the approach of 'One Team One Project'. This project is a great example of India-Japan partnership," the PM said.
Russian invasion of Ukraine also discussed
Apart from discussing bilateral economic and cultural ties, the two world leaders also discussed global issues, including Russia's invasion of Ukraine. "Unilateral attempts to change the status-quo using force should not be allowed," Kishida said, making a strong case against Russia's actions. It may be noted that India has abstained from voting on three UN resolutions on the matter.