Delhi Police is 'sorry' after yet another lathicharge on journalists
Delhi Police is 'sorry' after yet another lathicharge on journalists
Mar 25, 2018, 01:25 pm
3 min read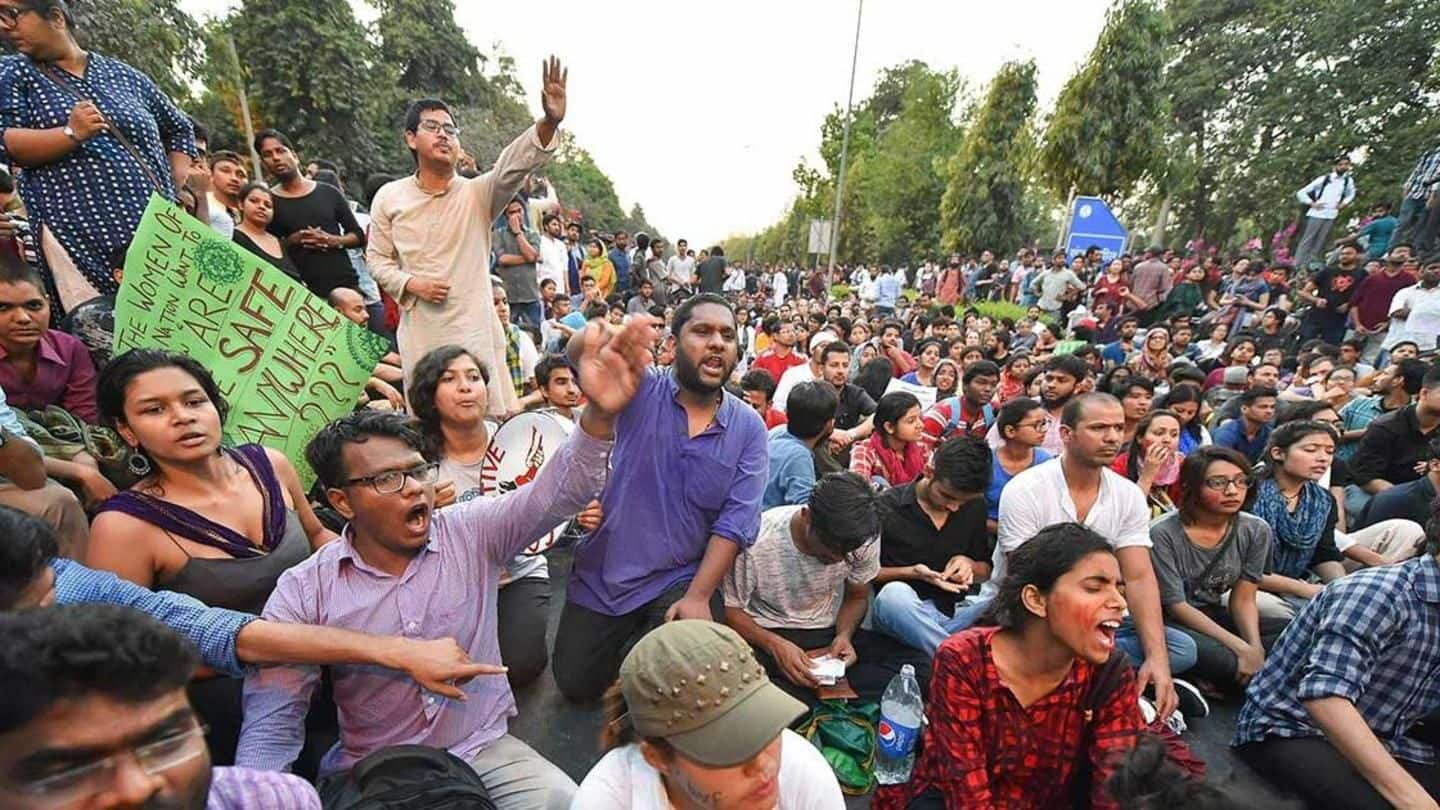 Delhi Police isn't known for their impressive track record in upholding human rights and freedom of the press. Allegations of journalists being assaulted and groped by police personnel have once again hit the force. This time, the victims were covering a protest by JNU students. The department has now issued their "deepest apologies" and ensured an investigation in the matter.
All about the massive protest
On Friday evening, over 1,000 JNU students and professors marched to demand academic freedom, action against a professor accused of sexual harassment, and others. Police stopped them near the Safdarjung flyover. Then they fired water cannons and unleashed lathicharge. Several students alleged they were assaulted. Photos of injured protestors made the rounds on social media. Journalists covering the march got trapped in the melee.
Delhi Police PRO tweets videos of protest
A journalist molested, another thrashed, a third's camera seized
A female journalist alleged that Delhi Cantonment SHO Vidyadhar Singh approached her, "pressed my right breast and pushed me back." When she confronted officers at the spot, they said it might have been intentional, but Singh accused her of lying. An HT photographer's camera was allegedly seized by personnel. A Firstpost journalist was thrashed and later seen with his left arm in a sling.
Students and professors not spared either
There were similar allegations from protesters. MA student Sudhanya Pal was arrested after she tried to save another student, whom women constables were allegedly trying to strip. Professor Pradeep Shinde was attacked from behind when he was talking to a police officer. MPhil scholar Shreyasi Biswas said she and the JNU students' union president were assaulted while they were trying to calm other students.
Journalists set down their cameras in protest
Yesterday, journalists protested in front of the Delhi Police headquarters, setting down their cameras on the ground and demanding action against the accused personnel. PRO Madhur Verma claimed cops had mistook the journalists as protesters, but mediapersons said they didn't stop the assault "despite repeated pleased (and) even after furnishing their identity cards." Later, Verma tendered "deepest apologies to the media."
Verma responds to complaints
Yesterday's incident was a very unfortunate one. Our deepest apologies to the media. Our intention wasn't to obstruct the media from doing its job. In the confusion, some female police personnel mistook the photojournalist as a protester: Delhi Police PRO Madhur Verma

— ANI (@ANI) March 24, 2018
Police have now assured strict action after enquiry
Police have filed an FIR against protesters. The case is being investigated by the Sarojini Nagar SHO. But they didn't lodge an FIR against Singh, the accused cop, till late yesterday. The Indian Women's Press Corps pointed out under the Criminal Law Amendment Act, an FIR has to be filed in every molestation complaint.' However, Special Commissioner Dependra Pathak assued "strictest action" after enquiry.