Kolkata: Bagri market catches massive fire, 30 fire-tenders at spot
Kolkata: Bagri market catches massive fire, 30 fire-tenders at spot
Sep 16, 2018, 09:34 am
2 min read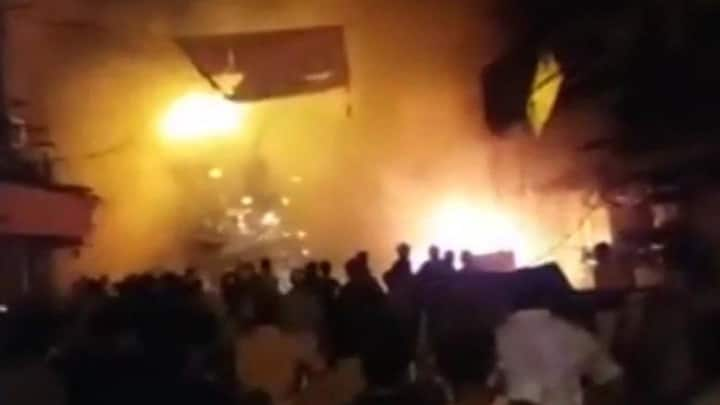 A five-storey building at Kolkata's Bagri market caught massive fire late on Saturday night, and 30 fire tenders were rushed to the spot, reports said. Efforts are on to douse the fire in the congested area of Canning Street. The cause of the fire is unknown. At the time of press, no casualties were reported. But the area hasn't been fully evacuated yet.
Congested buildings are making firefighting difficult, says Mayor
Mayor Sovan Chatterjee said the fire started at 2:45 AM, and they are trying their best to contain it. "Firefighting operation is tough here because of the number of buildings," he said. A shop in the market reportedly caught fire and it has since then spread rapidly. The presence of inflammable articles added to it. Bagri market is one of the busiest in Kolkata.
Even after five hours, firefighters couldn't reach source
Even after five hours of the operation, firefighters weren't able to reach the source of the fire. They were seen breaking windows and glass panes of shops for it. "We are using hydraulic ladder and gas cutters to cut through the grills of the gates and small windows to enter the building," a senior officer said. The entire area was engulfed by black smoke.
Traffic restrictions imposed in wake of massive fire
The building has a number of medicine, jewellery and cosmetics shops. Authorities fear that if the fire is not contained, it may spread further. Kolkata Police's disaster management group and civil defence unit are also helping in the operation. In wake of the disaster, traffic restrictions were imposed. MG Road & Podder Court, and Canning Street in between Brabourne Road & Rabindra Sarani are closed for traffic.
Here is a video of the incident