Virat Kohli passes fitness challenge to PM Modi, he accepts
Virat Kohli passes fitness challenge to PM Modi, he accepts
May 24, 2018, 11:08 am
2 min read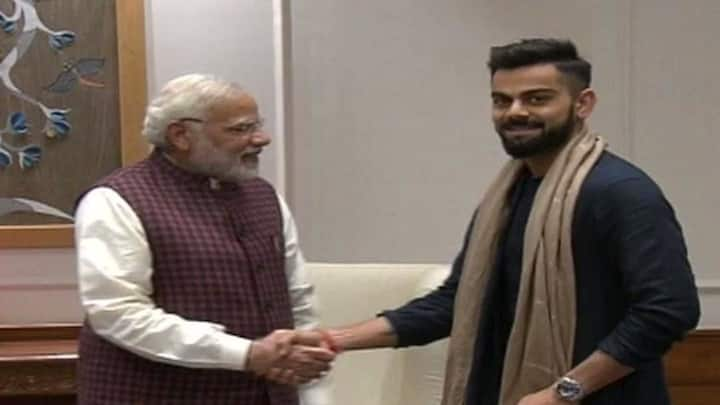 Indian cricket team skipper Virat Kohli challenged Prime Minister Narendra Modi to take part in 'Hum Fit toh India fit' challenge. PM Modi said 'Challenge Accepted' and promised to share a video soon. The initiative was started by Union Minister Rajyavardhan Singh Rathore on May 22 to promote fitness. In a tweet, Rathore passed the challenge to Hrithik Roshan, Saina Nehwal and Virat Kohli.
Here's the Twitter exchange between Kohli and PM Modi
Hum Fit Toh India Fit: What the challenge is about
Spearheaded by Rajyavardhan Singh Rathore, the challenge has gained a lot of momentum on social media. Rathore had shared a video of him doing push-ups, and passed the baton to Hrithik, Virat and Saina. However, it was Virat's challenge to PM Modi that created quite the buzz. The star cricketer also nominated his wife, actress Anushka Sharma, and former Indian captain MS Dhoni.
Hrithik Roshan accepts Rajyavardhan Singh Rathore's challenge; here's his video
PM Modi has been promoting yoga for a long time
It is a known fact that Prime Minister Narendra Modi is a fitness freak. He has been promoting Yoga for a long time now. Only today, he uploaded a 3D video of him performing Setu Bandhasana. "I would additionally like to mention, that the movement of 'Fit India', without any expense, is called yog," PM Modi had once said.
Challenge becomes rage on social media, many do their bit
A slew of known personalities have participated in this challenge. Apart from ministers like Kiren Rijiju, Piyush Goyal and Manoj Tiwari, actors Tiger Shroff and Saumya Tandon also did their bit to promote this initiative. Will this make India fitter? Let's hope so!
Check out Tiger Shroff's video