Priyanka Reddy murder: What we know so far
Priyanka Reddy murder: What we know so far
Written by
Siddhant Pandey
Nov 29, 2019, 12:48 pm
3 min read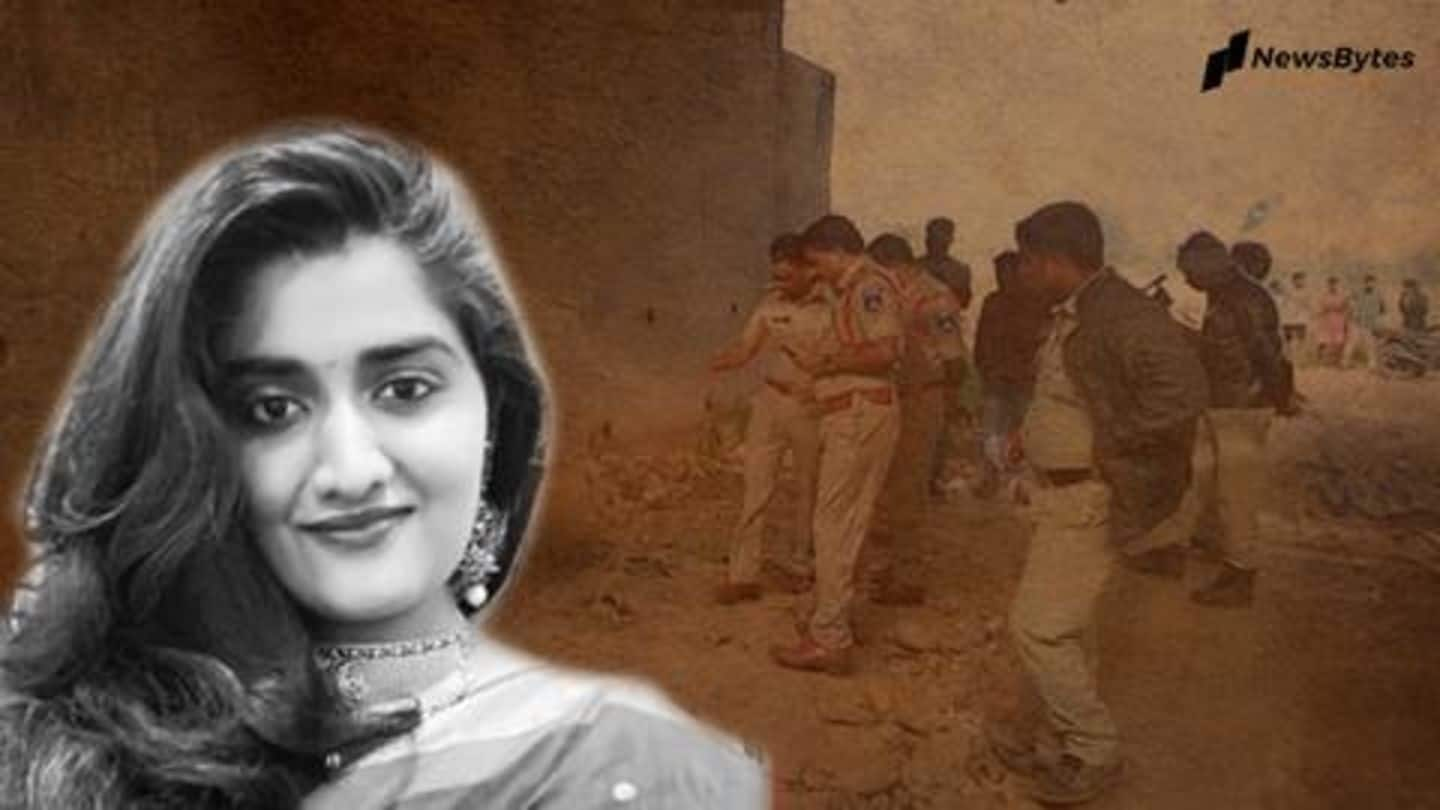 A day after the charred body of veterinary doctor Potula Priyanka Reddy was found on the outskirts of Hyderabad, it seems her killers first gained her confidence before assaulting her. In her last phone call, Reddy (26) told her sister that she felt scared of the people who told her that her scooter had a flat tire and came to her aid. Here's more.
Reddy's last known location: ORR toll plaza at Tondupally
Reddy returned home on Wednesday and left for another clinic in Gachibowli at 5:50 pm. She had parked her red Hero Maestro scooter at the ORR toll plaza at Tondupally and took a shared cab to the clinic, The New Indian Express reported. Later, she returned to the toll plaza to get her scooter, however, strangers told her she had a flat tire.
Reddy called her sister saying she felt scared
At 9:22 pm, Reddy called her sister, P Bhavya, saying she was scared. Per Bhavya's description, Reddy said the strangers told her she had a flat tire and didn't let her leave. They sent a boy with the vehicle to have it repaired, however, he returned saying all shops were closed. Bhavya urged Reddy to stay on call, however, she went incommunicado.
Reddy's phone went off; family filed missing person's complaint
At 9:44 pm, Bhavya called her sister, followed by another call at 10:20 pm, however, her phone was switched off, Telangana Today reported. The family left to search for Reddy at the toll plaza, however, they couldn't locate her. A missing person's complaint was filed at Shamshabad police station. On Thursday morning, a milkman discovered a bonfire under a culvert in Hyderabad-Bengaluru highway.
Milkman found hand sticking out of flames
The milkman first spotted the fire at 5 am on Thursday on his way to his farm. He assumed it was a regular bonfire. On his return journey, he spotted a hand sticking out of the flames and alerted the villagers, who informed the police.
Family identified Reddy's body with scarf, locket
Since Reddy's family had filed a missing person's complaint, they were called to identify the charred body at Chattanpally Sub Road in Shadnagar, 25 km away from where Reddy went missing. With the help of a scarf, a Ganesha locket, and a buckle, the family could identify the charred body as that of Reddy's, according to Telangana Today.
Investigation on; lorry driver, cleaner detained
The police are now investigating the case to trace the people who offered to help Reddy. They are also trying to shed light on whether she was sexually assaulted before being killed. Reportedly, Reddy's clothes were found behind parked trucks near the toll gate, indicating she was assaulted, killed and then dumped in Shadnagar. A lorry driver and cleaner have been detained, TNIE reported.
Autopsy will confirm if she was sexually violated: Cyberabad Commissioner
Meanwhile, Cyberabad Police Commissioner V C Sajjanar told Telangana Today, "As the body was completely charred and beyond recognition, it is hard to say if she was raped. We are investigating that aspect as well." The Commissioner added, "A spot autopsy was done and samples were collected by forensic experts. An autopsy report will confirm if she was sexually violated and killed."