Rajasthan teacher spends Rs. 3.7L on chopper-ride on retirement day
Rajasthan teacher spends Rs. 3.7L on chopper-ride on retirement day
Written by
Siddhant Pandey
Sep 01, 2019, 04:19 pm
3 min read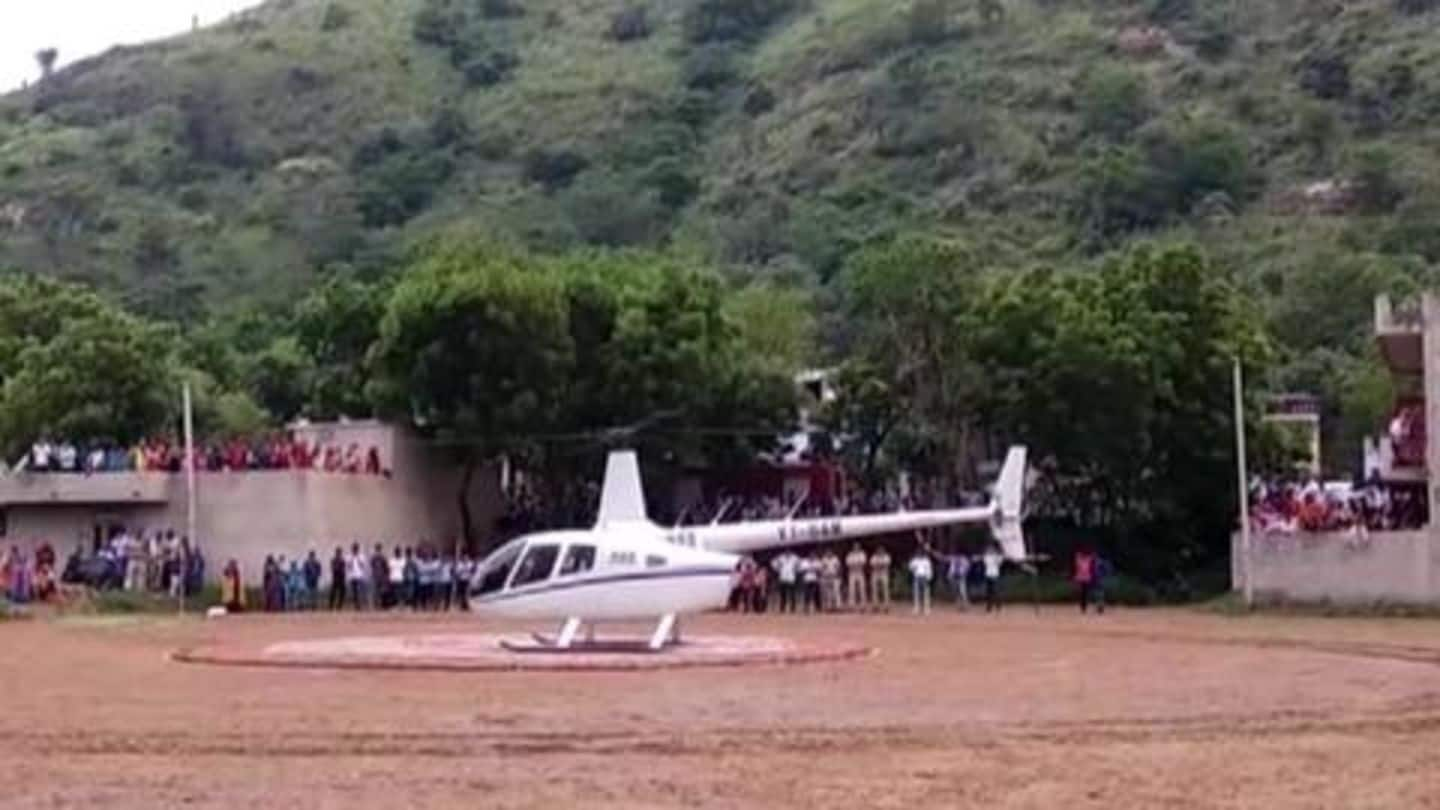 In Rajasthan, a school teacher made a grand exit after retiring from a government higher secondary school in Alwar. On his last day, Ramesh Chand Meena (60) boarded a helicopter from the school along with his wife and grandson to return to their home in Malawali village 22 km away. The 18-minute-long flight had been a dream for Meena and his wife, Somoti.
Meena paid Rs. 3.7 lakh to book helicopter ride
"One day, me and my wife spotted a chopper in the sky," Meena recalled, speaking to The Times of India. "She asked me how it feels to ride one and I said let's try that someday. That's when I decided to fulfill her dream." Hence, for his last day on Saturday, Meena hired a chopper from New Delhi for Rs. 3.70 lakh.
'Took all necessary permissions from district administration'
Meena said, "I had taken all necessary permissions from the district administration and other departments. Thanks to district administration officials who made the process easy." The cost also covered the construction of a temporary helipad at a distance of 100m away from the school.
Large crowd gathered to witness flight
Meena, who had worked at the school for 4 years, was given a ceremonial farewell as all his friends and relatives came to greet him, ANI reported. After the school principal handed him the certificate of retirement, Meena, his wife, and his grandson prepared for their maiden flight. As the trio boarded the helicopter a large crowd gathered to witness the majestic event.
Reportedly, ASI Deshraj, Laxmangarh police station, Dr. Anwar Khan, Medical In-charge, and Tehsildar Bholaram were present at the spot in case anything went awry. According to Hindustan Times, the crowd lit firecrackers and played drums as Meena took flight.
Dream has been fulfilled today, says Meena
Meena said he thoroughly enjoyed the flight, adding, "I had a dream to fly in a chopper and it was my wish to take my wife in a helicopter sojourn and that dream has been fulfilled today." His son said, "My mother used to wonder how people fly in a helicopter, and her wish to sit and fly in a helicopter came true today."
In 34-year career, Meena took buses, bicycle, motorbike to travel
Notably, Meena's career spans over 34 years, however, he has only ever ridden local buses, a bicycle and a motorbike to commute between home and school. The 60-year-old teacher told TOI that now that his children are settled and he's receiving Rs. 40-45 lakh post-retirement, he has no hesitation spending Rs. 3-4 lakh on a helicopter ride to fulfill his dreams.
'Worked hard to raise children; Now, I'll enjoy life'
He said, "Earlier, we were not paid that much. I have worked hard to raise my children well and earned for my family. Now, it is time to enjoy my life. If something comes to your mind, you should go ahead with it."
Recently Haryana Education Department employee also booked helicopter on retirement
Earlier this month, a Haryana Education Department employee had hired a helicopter to return home after serving his last day at work. Kure Ram had booked the chopper for Rs. 3.5 lakh to fly from the government school in Neemka in Faridabad district, where he worked, to his home in Sadpura village 2 km away. He had worked at the school for 40 years.