Noted Indian abstract painter Ram Kumar passes away at 94
Noted Indian abstract painter Ram Kumar passes away at 94
Apr 14, 2018, 05:36 pm
2 min read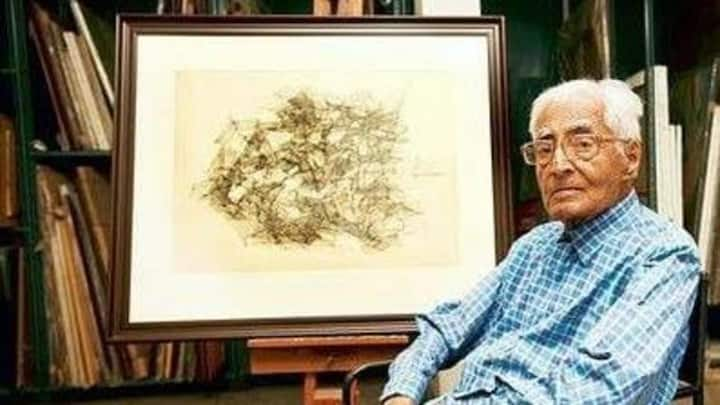 Noted Indian painter Ram Kumar passed away today at the age of 94. The artist's death was confirmed by Delhi-based Vadehra Art Gallery, which forayed into publication with a solo show of the artist "Ram Kumar: A journey within" in 1996. "It is with a heavy heart that we bid a final farewell to one of the greats of Indian art," it said.
Final farewell to a dear friend: Vadehra Art Gallery
"For us at Vadehra Art Gallery we mourn the loss of a mentor and passionate supporter who has been a part of the birth and growth of our gallery," the statement said. The gallery hosted 22 solo exhibitions by Ram Kumar over the years. He was cremated at Nigambodh Ghat. A prayer meeting will be organized on 17 April at Delhi's Chinmaya Mission.
Studied art under Fernand Leger, Andre Lhote in paris
Born in a large family in Shimla, Ram Kumar started off with a degree in Economics, but the course of his life took a different turn when he was introduced to art. He decided to go to Paris and study art where he met fellow painter Syed Haider Raza. He studied under Cubist painter Fernand Leger and sculptor and figurative painter Andre Lhote.
Kumar's visit to Varanasi marked turning point in his life
In 1960, Ram Kumar traveled to Varanasi with MF Husain, and this magical city would remain his muse for the rest of his life. From here on, abstract landscapes became the artist's main subject, rendered time and again as an amalgamation of colors and textures. The award-winning painter's landscapes often straddle the boundaries between abstraction and naturalism, quoting both but succumbing to neither.
Kumar was honored with Padma Shri in 1972
Despite being associated with the Indian modernist scene, the Progressive Artists Group as well as the Delhi Shilpa Chakra, Kumar never easily fit into a simplistic modernist narrative constantly seeking to rediscover elemental origins within the lingua franca of the landscape. He was honored with Padma Shri by in 1972 and Kalidas Samman by the Madhya Pradesh government in 1986.