Kumbh Mela 2019 commences with first bath of Makar Sankranti
Kumbh Mela 2019 commences with first bath of Makar Sankranti
Written by
Shiladitya Ray
Jan 15, 2019, 11:21 am
3 min read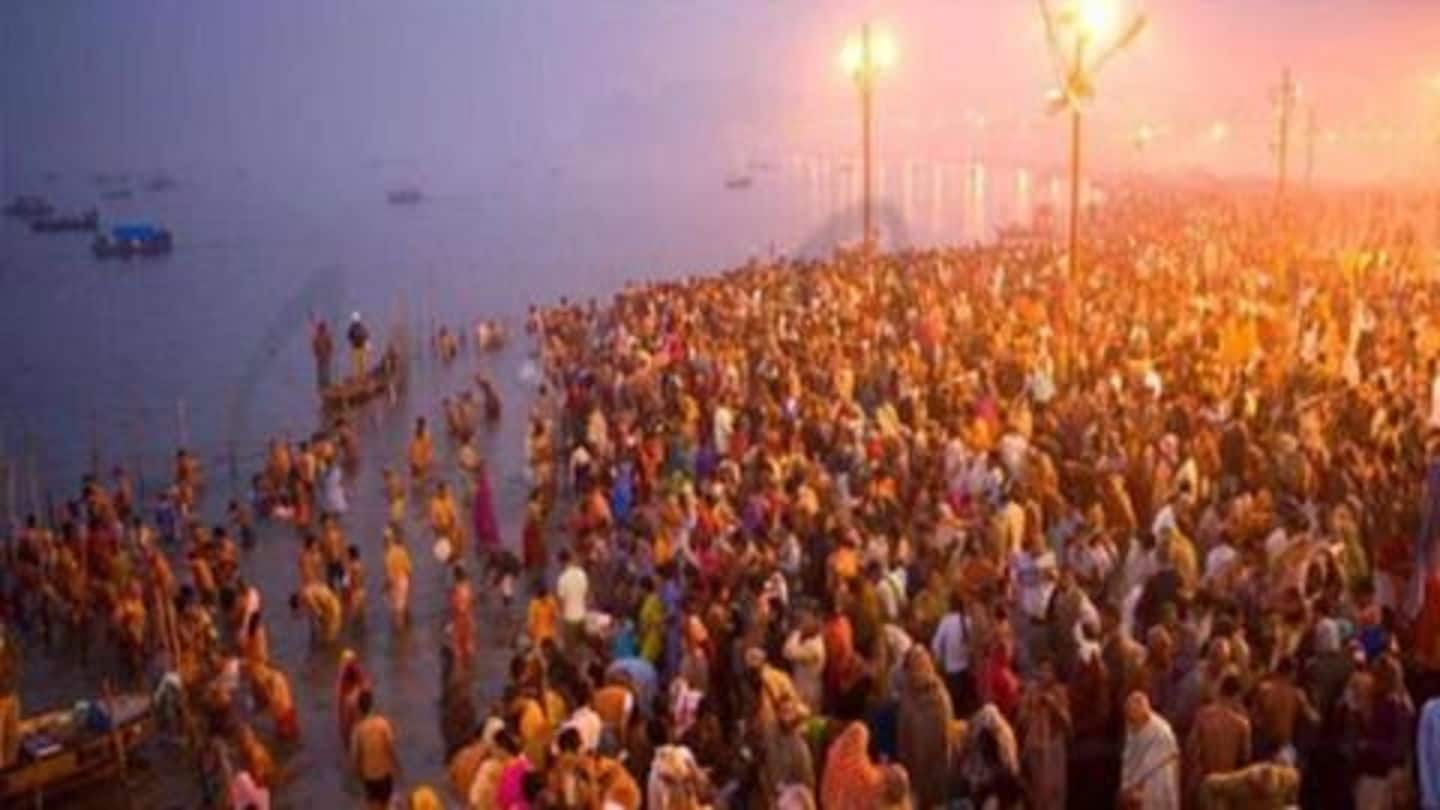 At the daybreak of Tuesday, which marked Makar Sankranti, thousands of pilgrims took a dip in the chilly waters of the Sangam - the confluence of the Ganga, Yamuna, and Saraswati rivers - thus officially kicking off the Kumbh Mela 2019. Owing to the extraordinary number of pilgrims who come visiting, elaborate security and other facilities have been arranged. Here's more.
The Kumbh Mela is the largest congregation of pilgrims
The Kumbh Mela is the world's largest religious gathering and sees around 10-12 crore people throng to Prayagraj, where the Ganga, Yamuna, and the mystical Saraswati rivers meet. The Mela grounds, or the Kumbh Nagari, typically spreads over a whopping 32,000 hectares.
Rs. 4,200cr budget, 250km of new roads: Kumbh Mela logistics
This year's Kumbh Mela - the Ardh Kumbh Mela - is taking place after six years, and is being managed by 28 state departments and six Union ministries. A budget of Rs. 4,200cr has been allocated by the UP government - thrice the budget allocated for the Kumbh Mela in 2013. 250km of new roads, 22 pontoon bridges have been constructed, and 40,000 LED lights have been installed.
Over 20,000 security personnel have been deployed
On Tuesday itself, around 1.25 crore pilgrims are expected to take a dip at the Sangam. Given such crowds, heavy security has been deployed in the Mela grounds as well in strategic parts of Prayagraj. According to Senior Superintendent of Police (SSP) KP Singh, over 20,000 police, paramilitary, and other security personnel have been deployed. Vehicle entry is also restricted at the Kumbh Nagari.
Swachh Kumbh: 1.22 lakh toilets, 25,000 sanitation staff, 17,000 dustbins
Given the theme of 'Swachh Kumbh' officials said that 1.22 lakh toilets have been made operational in the area, while 17,000 dustbins have been placed across appropriate locations. Over 25,000 sanitation staff, too, have been deployed so that cleanliness is maintained across the Kumbh Nagari. However, that's not all.
Pilgrims will also get automated weather updates
Technology, too, has been heavily deployed for the Kumbh Mela 2019. One such example is the installation of automatic weather stations that provide information about prevailing weather, as well as forecasts for the next three days via the 'Kumbh Mela Weather Service' app on smartphones. The automatic weather stations will be aided by a mobile van that collects real-time weather data.
How telcos have prepared for the Kumbh Mela 2019
Just days back, Reliance Jio launched a special Kumbh JioPhone for pilgrims that offers special features like real-time travel information, ticket booking, event updates, and other Kumbh-related information. Meanwhile, Airtel will provide exclusive Kumbh Mela coverage on the Airtel TV app. Not to be outdone, Vodafone Idea will provide RFID tags for children and senior citizens to enable tracking in case they get lost.