MP: 'Threatened' professor touches feet of ABVP students in college
MP: 'Threatened' professor touches feet of ABVP students in college
Oct 01, 2018, 02:25 pm
2 min read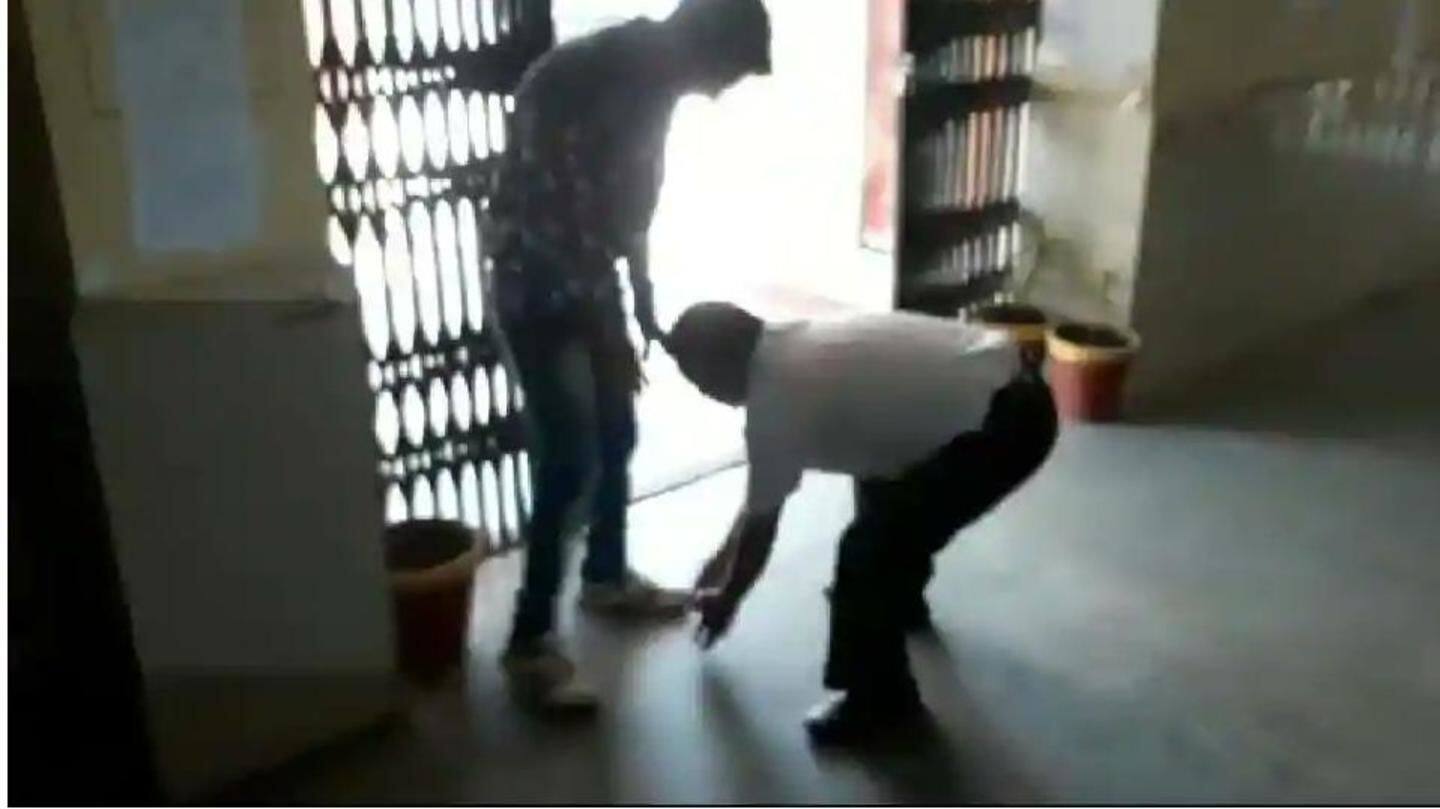 A video has surfaced that purportedly shows a government college professor in Madhya Pradesh touching the feet of Akhil Bharatiya Vidyarthi Parishad (ABVP) activists after they threatened to lodge a police complaint over his objection to them raising "patriotic" slogans. According to sources in the Government Commerce College in Mandsaur, Professor Dinesh Gupta was teaching students on September 26 when the activists raised slogans.
Professor asked students not to disturb, they threatened to complain
Irritated by the commotion caused by the shouting, Gupta came out of his classroom and asked them not to disturb, which the ABVP activists ignored. Further, they threatened the professor that they would approach the police for trying to stop them from raising "patriotic" slogans, sources said. The professor got scared and touched the feet of the activists and apologized to them, they claimed.
It was an emotional act, says ABVP district convener
When contacted, ABVP Mandsaur district convener Pawan Sharma said it was an "emotional act" by the professor and occurred when BSc students were awaiting results of their third-semester examination. "The students were protesting and shouting slogans like 'Bharat Mata Ki Jai'. They were on their way to give a memorandum to the college principal on the issue when professor Gupta objected," he said.
Gupta said he doesn't hold any grudge against anyone: Sharma
Sharma further said when the students registered their protest with the principal, the professor came there and suddenly started touching feet of students who started running. "After a while, the professor sat with me and said that he turned emotional and didn't nurse any grudge against anyone," the ABVP leader claimed. Meanwhile, Congress President Rahul Gandhi expressed anguish over the incident on Friday.
Gandhi tweets in Hindi to express his unhappiness
मंदसौर में सत्ताधारी पार्टी के छात्र नेताओं द्वारा एक गुरु का अपमान।

गुरु ब्रह्मा गुरु विष्णु गुरु देवो महेश्वर मानने वाले देश में यह कौन सा 'संस्कार' है कि छात्र धमकी दें और गुरु उनके पाँव छुए। ज्ञान के साथ यह कैसा सलूक है? pic.twitter.com/XmT3VAkJ6E

— Rahul Gandhi (@RahulGandhi) September 29, 2018