Tube in nose, ailing Goa CM Manohar Parrikar presents budget
Tube in nose, ailing Goa CM Manohar Parrikar presents budget
Jan 30, 2019, 05:48 pm
2 min read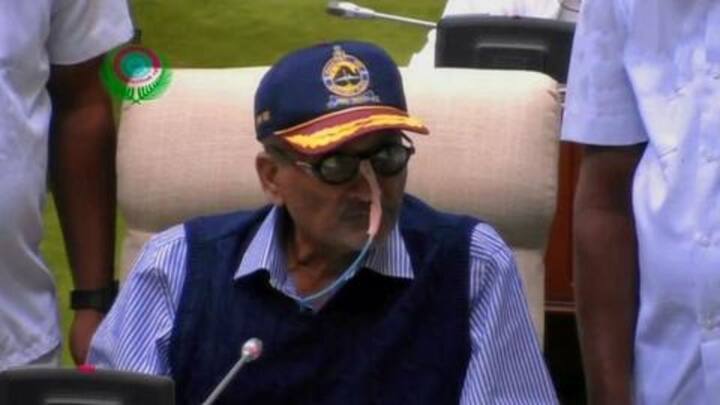 In a sight that evokes concern, ailing Goa Chief Minister Manohar Parrikar presented the state budget on Wednesday while seated with a tube inserted into his nose. Parrikar has been severely unwell for months now, but despite his condition, he spiritedly said that he was "high on josh" while presenting the budget. Here are the details.
Parrikar has been ill since March 2018
Parrikar has been suffering from a severe pancreatic ailment, and has had to undergo multiple, long-drawn treatments. He was first diagnosed in March 2018, and has also spent three months in US getting treated.
Despite his spirit, Parrikar looked seriously ill
Apart from being the CM, Parrikar is also the Goa Finance Minister, and thus it fell upon him to present the state budget. Surrounded by aides for support, the ailing Chief Minister made his way to the Goa Legislative Assembly, and spoke in a feeble voice as he read out his budget speech, pausing occasionally to take sips of water.
Earlier on Sunday, Parrikar had inaugurated a bridge
Earlier on Sunday, a thinner-than-usual and frail looking Parrikar made his first public appearance after a long time while inaugurating a 5.1km bridge across the Mandovi river. Despite his spirited address to the crowd that had gathered to see him, the Goa Congress launched an attack on the ruling BJP, alleging that Parrikar was in no condition to serve.
Parrikar's frail condition is bound to invite further criticism
Although Parrikar hit back at the Congress saying that he would serve till his last breath, his appearance at the Legislative Assembly with medical appendages strapped to him is bound to invite more criticism from the Congress, which has long been demanding his resignation. The Congress, for months now, has been alleging that Parrikar's illness and absence from office has left the state administration crippled.
RaGa had met the ailing CM on Tuesday
Meanwhile, Congress chief Rahul Gandhi, on Tuesday called on the ailing Chief Minister during his visit to Goa. The meeting between the two sparked off speculation that the controversial Rafale deal had come up for discussion. However, RaGa later said that Parrikar, who was Defense Minister till 2017, told him that he had had nothing to do with the new deal.