'Jayalalithaa was never pregnant': TN government denies claims by 'daughter'
'Jayalalithaa was never pregnant': TN government denies claims by 'daughter'
Jul 25, 2018, 09:23 am
2 min read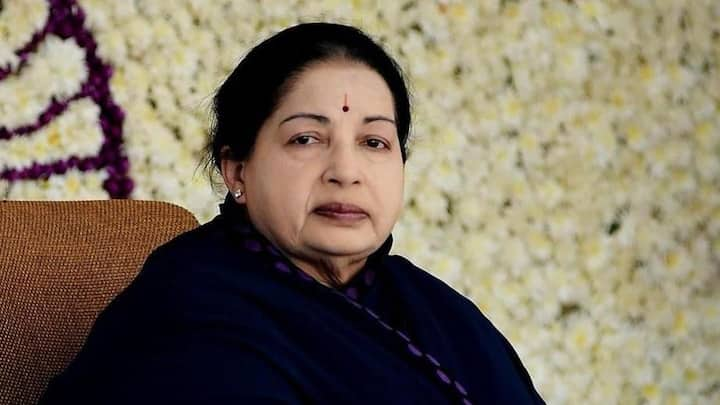 The Tamil Nadu government told Madras High Court on Tuesday that the deceased Chief Minister of the state, Jayalalithaa, was never pregnant in her life. To support the argument, Tamil Nadu Advocate General Vijay Narayan produced video clips from the 1980s. The court was hearing a petition by Amrutha, who claimed to be the biological daughter of the AIADMK leader. Here's more about it.
Months after Jayalalithaa died, Amrutha claimed she was her daughter
Jayalalithaa passed away on December 5, 2016, and was buried at Marina Beach. Amrutha, in her petition, sought to exhume Jayalalithaa's body and cremate her as she was a Brahmin. She also wanted DNA tests to be conducted. Amrutha had knocked on the Supreme Court's doors in 2017, but her plea was rejected and she was asked to approach the Madras High Court.
Lawyer produces old videos to prove Jayalalithaa wasn't pregnant
Narayan submitted in the court a video of an event in 1980, just before Amrutha's birth in August. "This was filmed just a month before the birth of Amrutha and the court can see that there are no signs of pregnancy," Narayan told Justice S Vaidyanathan. He suggested DNA samples of other relatives of Jayalalithaa can be matched with Amrutha, if needed.
'She just wants property': Lawyer argues in court
Narayan argued that Amrutha wanted a share of the property of the deceased Chief Minister. Justice Vaidyanathan posted the matter for hearing again, next week. Before passing away at Apollo Hospital, Jayalalithaa had been battling a serious illness. Official reports claimed she passed away due to cardiac arrest. As various allegations emerged later, her death became one of the biggest mysteries of the state.