Karnataka Speaker disqualifies 14 rebel MLAs ahead of BJP's floor-test
Karnataka Speaker disqualifies 14 rebel MLAs ahead of BJP's floor-test
Written by
Ramya Patelkhana
Jul 28, 2019, 01:52 pm
3 min read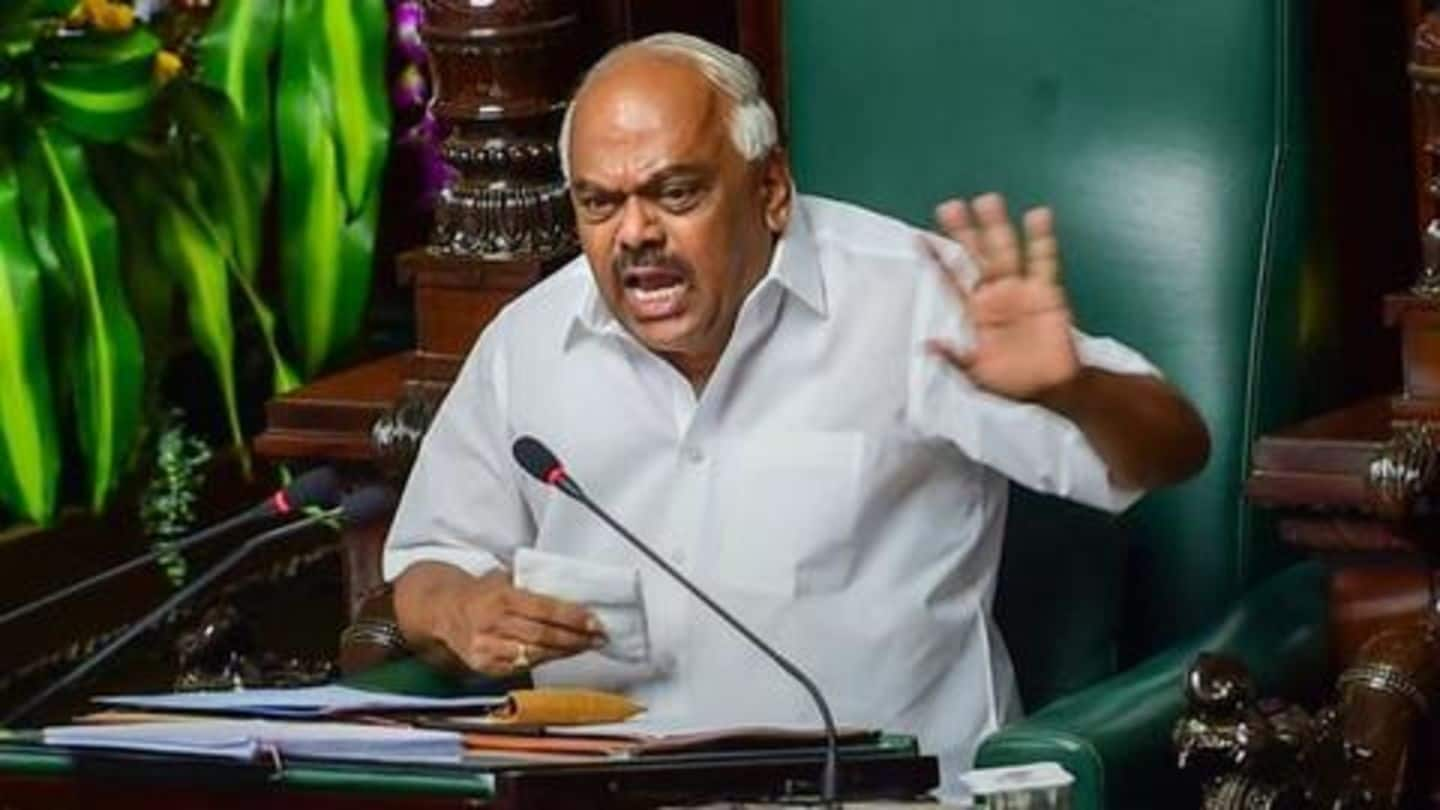 Karnataka Assembly Speaker KR Ramesh has disqualified 14 rebel MLAs - 11 lawmakers from Congress and three from HD Kumaraswamy's Janata Dal (Secular) - on Sunday. These rebel MLAs have been disqualified until the end of the Assembly term. Notably, this comes only a day before the newly-formed BJP government's floor test in the Assembly to prove its majority on Monday. Here's more.
BJP needs to prove majority on the Assembly floor
BJP had staked claim to power in Karnataka after the coalition government of Congress and JD(S) failed to clear the trust vote in the Assembly last week. The newly-formed BJP government will now have to prove its majority on the floor of Assembly on Monday.
A total of 17 rebel MLAs disqualified so far
The disqualification of 14 rebel MLAs from the Karnataka Assembly on Sunday comes only a couple of days after Ramesh disqualified three rebel Congress MLAs. The three Congress lawmakers were disqualified for abstaining from the Congress-JD(S) coalition government's trust vote last week. A total of 17 rebel MLAs have been disqualified so far; they include Roshan Baig, Anand Singh, H Vishwanath, and ST Somashekhar.
All these things have pushed me into depression: Ramesh
With the latest MLA disqualifications, the strength of the Karnataka Assembly has decreased to 208 from 225 seats while the majority mark has come down to 105. Ramesh said, "Where have we reached? The way I am being pressurized to deal with the situation (recent political developments in Karnataka) being a speaker... all these things have pushed me into a sea of depression."
Kumaraswamy dismisses reports of some JD(S) MLAs supporting BJP government
Meanwhile, former Karnataka CM Kumaraswamy, earlier on Sunday, rejected reports that some JD(S) MLAs are in favor of extending support to the BJP government. JD(S) MLA GT Devegowda on Friday claimed some party lawmakers want to provide external support to CM BS Yediyurappa's government. "We should support BJP. It's up to Kumaraswamy...whether to sit in opposition or be part of BJP government," Devegowda said.
What exactly did MLA Devegowda say?
After a meeting of JD(S) legislators in Bengaluru, Devegowda had said, "We (MLAs) discussed the future course of action. Some have suggested that we should sit in the opposition, while some legislators are of the opinion that we should support the BJP from outside."
Far from the truth: Kumaraswamy on JD(S) supporting BJP
"News about us having ties with the BJP has come to my notice. These are baseless and lawmakers and party workers should not heed to any of these rumors," Kumaraswamy tweeted in Kannada, downplaying MLA Devegowda's comments. "It is far from the truth. We will continue our fight for the people and the fight will go on," he posted.