Why minority status for the Lingayats before Karnataka elections?
Why minority status for the Lingayats before Karnataka elections?
May 10, 2018, 04:49 pm
2 min read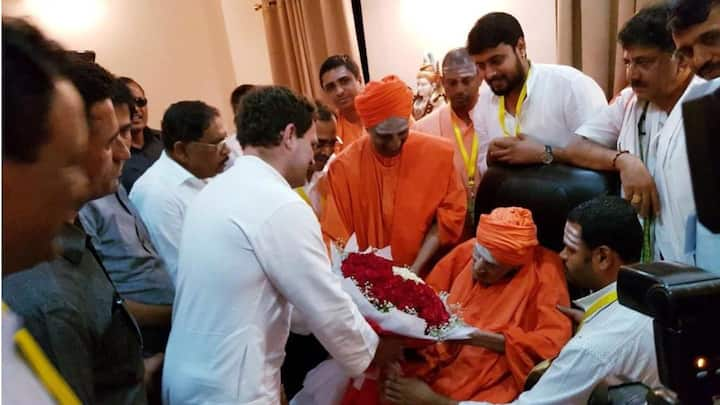 Karnataka goes to polls in 2 days, and the hottest debated question of the assembly elections - is which way will the Lingayats vote? It is important because Lingayats can single-handedly influence the poll outcome. Their domination on 100 seats out of 225-strong Vidhan Sabha is significant. With an intent to appease, Siddaramaiah government's decision to declare about 17% population as minorities isn't surprising.
First off, who are the Lingayats?
Before being killed, journalist Gauri Lankesh's last article was on Lingayats. She explained, Lingayats are the followers of Basavanna and Sharanas (original followers of Basavanna). Basavanna, a 12th-century reformer rejected Vedas and caste, the essence of Hinduism. Hence, a 'demand' for separate religion. She wrote Lingayats differ from Veerashaivas because the latter accept Vedas and caste, though Karnataka government gave minority status to both.
Accusation of 'dividing Hindus'
Reportedly, the Lingayats being given a minority status has backfired and the Congress is being accused for 'dividing' Hindus. "CM Siddaramaiah have not given any kind of counter narrative to help us convince voters that this move is for their good. And Lingayat leaders and pontiffs who came to us with their demand are not doing much to counter BJP," a Congress leader said.
Siddaramaiah is dividing society
"Siddaramaiah is anti-Lingayat, he is trying to divide society through all his efforts. Our children don't get benefits in fees, scholarships, but every other child gets these. This latest move is another such move," Economic Times quoted a villager from Holalkere assembly.
Meanwhile, how is BJP handling the Lingayat debate?
The BJP has been leading the attack on the Congress for dividing the Hindus. BJP's Chief Ministerial candidate BS Yeddyurappa (a Lingayat) is at the forefront to call it an attempt to divide. Realizing voter's endorsement, he further alleged, "Siddaramaiah divided Lingayats to stop me from becoming Chief Minister. But he's been silent about it for three months because he has seen the backlash."
Lingayats lead in both Congress and BJP candidate list
Out of 218 candidates, Congress has given 42 tickets to Lingayats, while the BJP gave 47 tickets to the community. Lingayats are an important voter-base for the BJP. Notably, they had helped them open the account in the South. With 71 Lingayat contestants (highest ever), they won the Karnataka assembly elections in 2008 under the leadership of Yeddyurappa.