Telangana: KCR takes oath at exact time pandits suggested
Telangana: KCR takes oath at exact time pandits suggested
Dec 13, 2018, 02:01 pm
2 min read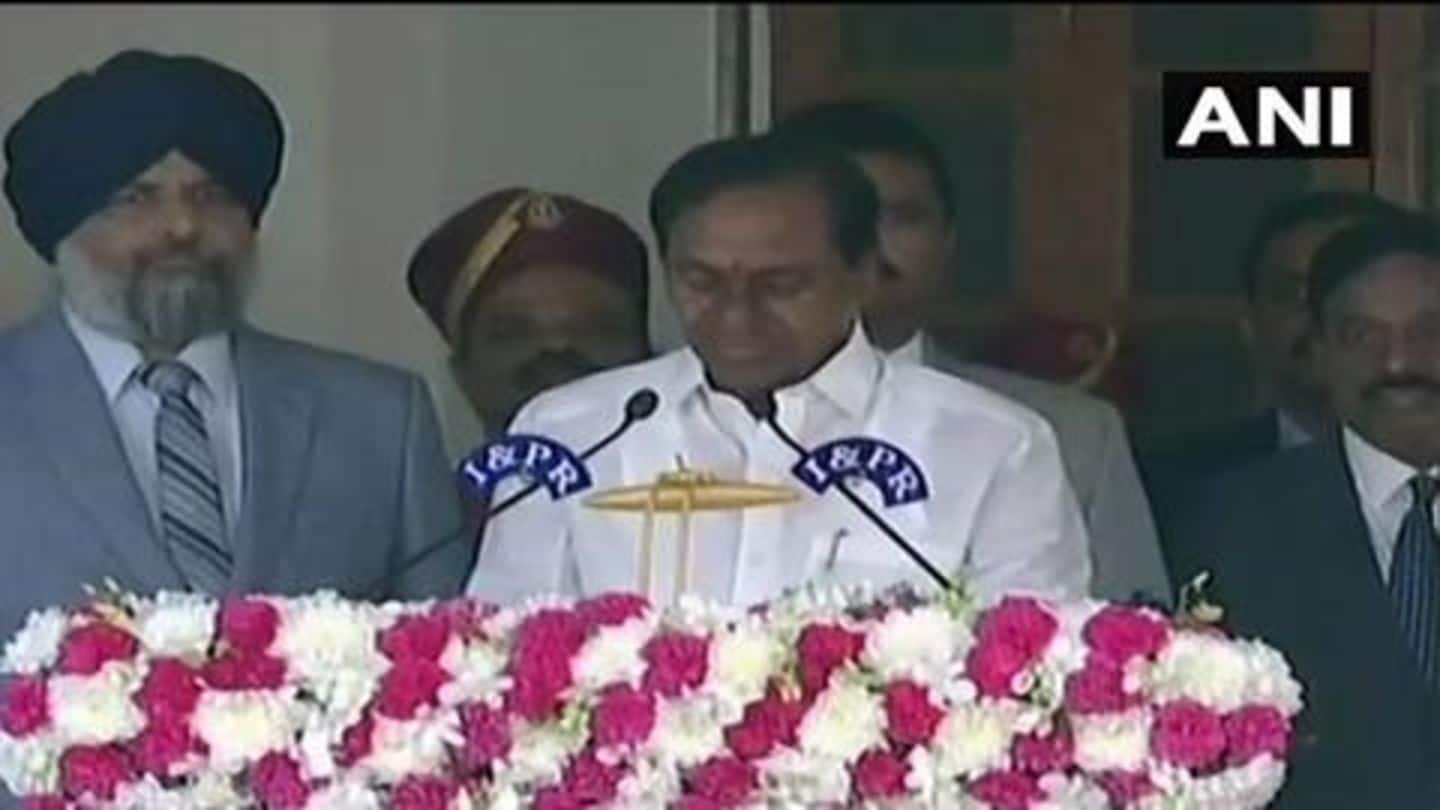 K Chandrasekhar Rao took oath as the Chief Minister of Telangana on Thursday, two days after leading his party, Telangana Rashtra Samithi (TRS), to an astounding victory in the assembly elections. The leader took oath at the Raj Bhavan in Hyderabad in the presence of a sea of supporters. In the polls, TRS won 88 seats, Congress 19, BJP 1, and Others 9 seats.
The significance of the timing
KCR, a strong believer of astrology, took the oath at exactly 1:25 PM, not a minute early. Reportedly, Vedic pundits from Lord Lakshminarasimha Swamy temple at Yadagiri in Bhongir district, fixed the muhurtam for the oath-taking ceremony and the CM followed it. Head priest of the temple Lakshmi Narasimhacharya said, "The auspicious period will continue for another one-and-a-half hour."
He will have 'Raja Yoga' for years: Priest
Further, the priest said the muhurtam will ensure KCR has Raja Yoga without any obstacles for the next few years. "During this period, all the grahas (planets) are in a high position for him and bring him good luck in whatever he does," Narasimhacharya added. It was speculated he would take oath on Wednesday but after consultation with priests he took the oath today.
KCR becomes CM for the second time
KCR defeats combined forces to govern Telangana again
Fortunately, KCR's gamble paid off in Telangana and the caretaker CM became the king again. He dissolved the assembly before the term ended and steered his party to a victory, defeating the alliance of Rahul Gandhi and Chandrababu Naidu. About the win, KCR told media, "We could have won another 17 to 18 seats but for the mistakes committed by our own party leaders."